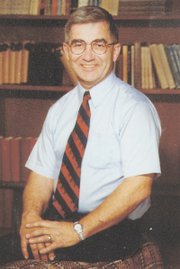 William H. Flower of Sunnyside has been awarded Certified Fund Raising Executive (CFRE) designation.
CFRE International is an independent organization whose sole mission is dedicated to certification of fundraising executives by setting high standards for philanthropic fundraising. The universal, baseline organization works in cooperation with leading philanthropic associations.
Those receiving CFRE designations must pass a rigorous written examination that tests their knowledge, skills and abilities required of a fundraising executive. To qualify for testing, the philanthropic fundraisers must meet a series of standards set by CFRE International, which includes tenure in the profession, education, demonstrated fundraising achievement and a commitment to service to not-for-profit organizations.
"The CFRE process was developed as a way to identify for the public and employers those individuals who possess knowledge, skills and commitment to perform fundraising duties in an effective, conscientious, ethical and professional manner," said Susan Davies Goepp, chair of CFRE International.
"Achievement of Certified Fund Raising Executive credential demonstrates the level of commitment on the part of the individual to himself and the profession as a whole," Goepp added.
Flower is one of only 5,400 professionals around the world to receive this designation.