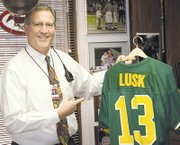 PROSSER - Kevin Lusk knows what it's like to face disappointment, to take a few lumps in life.
As a quarterback for the University of Oregon football team from 1978 to 1982, he experienced plenty of life lessons that have helped him today as the principal at Prosser High School.
Ironically, Lusk, who is originally from the Seattle area, chose the Ducks over WSU because he couldn't picture himself living in eastern Washington.
He was also recruited by the University of Washington, but turned down that program's offer as well. "They were just coming off a Rose Bowl appearance and seemed very arrogant," he said.
The bottom line, says Lusk, is "I enjoyed my experience down in Eugene."
Though a losing program for several years, Lusk played for the Ducks - Rose Bowl bound this coming Jan. 1 - during a time when Oregon enjoyed what were at that time rare winning seasons.
A part-time starter for Oregon, Lusk played on the Ducks' 6-5 team in 1979, Oregon's best season in a decade. After a 6-3-2 record in 1980 that included a 7-7 tie with top-ranked USC, hopes were high in 1981 that the Ducks would go bowling.
"Any time you're in a situation where the team is improving that was very exciting," he said.
Lusk noted the hard-fought tie with the Trojans came against a team featuring future NFL stars like Ronnie Lott, Marcus Allen and Jeff Fisher, the longtime head coach of the Tennessee Titans.
Hopes for a bowl game in 1980 were deflated by a 2-9 campaign, though. That low point was also a lesson learned, Lusk said, in staying true to a team through difficult times.
Lusk also noted his Oregon experience taught him to persevere through adversity.
"It's tough when you think you're going to start and someone else does instead," he said. "How you handle something like that tells a lot about your team commitment."
There's been no wavering in Lusk's commitment to Prosser High School. He's been at the school for nearly half of his 50 years, now in his 24th year at PHS, his eighth as principal.
It's quite a stay for a Seattle-area kid who didn't want to live in eastern Washington.
"It's funny," he smiles. "I can't picture myself living in western Washington."
Lusk adds, "The people and the kids in this community are what keep me around. The big time is where you're at. I'm really lucky, really fortunate to be here. My kids love it."
Prosser is known for its championship caliber football team, and in recent years it's been personified by Kellen Moore, a PHS alum who is in his second year as a starter for the Boise State Broncos. Moore, only a sophomore, received 100 votes in the recent Heisman Award tabulation.
Unless you've been living on a desert island, you're probably aware of the rivalry and bad blood between the Broncos - a university adopted by many at Prosser High School - and the Ducks.
That conflict came to a head in the season opener on Sept. 3 when Oregon running back LeGarrette Blount decked a Boise State player with a punch to the jaw.
Lusk was at the game in Boise and enjoyed it up until Blount's blow televised around the country.
"It was a ball," he said of the game, noting he changed hats between BSU and UO when each team had the ball on offense.
Things took on a more serious tone with Blount's post-game punch.
"There was a huge discussion at school after that," Lusk said. "It was a teachable moment. It's a whole lot easier to learn from someone else's mistake."
The loss at Boise State and Blount's suspension afterward makes Oregon's success since then even more impressive in advancing to the Rose Bowl.
It's safe to say Lusk is basking in the Ducks' first trip to the Rose Bowl in 15 years.
"I think it's awesome," he says. "It's creating a buzz and the expectations are higher."
Oregon has had sustained success over the past 10 to 15 years and Lusk attributes it in part to the hiring of Mike Belotti as first an assistant and later as head coach of the Ducks when Rich Brooks was hired away by the St. Louis Rams.
Today Belotti is Oregon's athletic director after retiring as coach at the end of last season.
Lusk says the financial support by Nike has helped sustain success on the football field and kept Oregon in the news with its gaudy uniforms. He says the training facilities are "amazing." Lusk added, "I can't imagine a recruit visiting there and not being impressed."
These days Lusk will talk about his Oregon football roots when people ask. But many of the students at Prosser High School are unaware of his days as a college quarterback for the Ducks.
The focus is different now.
"The most important thing in life isn't football," he says. "It's doing what's right, being a good citizen."