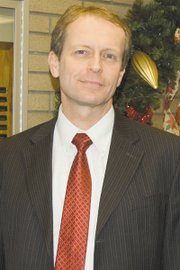 LaDon Linde has been a member of the Latter Day Saints (Mormon) church in Sunnyside since he was nine years old.
Recently he became the congregation's new bishop, replacing predecessor Bruce Ricks.
Known as a ward, the Sunnyside congregation is led by bishops that serve rotating terms of about five or six years. Linde said the bishop post is not one that a person seeks, rather it is a calling one accepts. This is his first term as bishop.
Linde, who works for Sunnyside Community Hospital, had his name selected by the church's stake (regional Yakima Valley) leadership and submitted for consideration to Salt Lake City, Utah, international headquarters for the Church of Jesus Christ of Latter Day Saints.
The bishop position is a volunteer post, and Linde praised the serving spirit by members of the Sunnyside Ward. "It would be impossible to do this by myself," he said.
As bishop, Linde is responsible for overseeing the church's worship and teaching, whether it be classes for men and women or for young children.
Linde doesn't teach all those classes, but oversees the volunteers who do. He rotates with two others in conducting the Sunday service.
As bishop, Linde noted the ward is planning what it calls an invitation Sunday at 11 a.m. on Jan. 17 to welcome the general public.
The title of bishop also authorizes Linde to perform funerals and weddings. He noted weddings typically take place at a temple, like the one in the Tri-Cities, rather than a chapel, such as where the Sunnyside ward worships.
Linde's responsibilities also include overseeing the ward's budget and he also has a say in the ward's assistance to the needy.
Linde says the best thing about being a bishop is "teaching others to come to Christ."