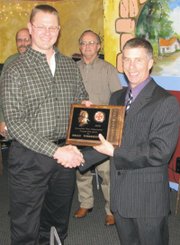 The Sunnyside Fire Department recently named its top firefighters for 2009 at its annual Christmas banquet.
Tony Castillo was selected as the career firefighter of the year. Scott Betz was selected volunteer firefighter of the year and Chad Werkhoven was named top responder for volunteer firefighters.
Sunnyside Fire Chief Aaron Markham said anyone can nominate a firefighter for firefighter of the year and then the names are narrowed down to three. At the November meeting of firefighters the list of names are submitted and voted on.
Markham said Castillo's extracurricular activities for the fire department were a huge factor for him being named career firefighter of the year. He volunteers to teach fire prevention in Sunnyside schools and also is a key player when it comes to the annual float the fire department enters in the farm implement parade in Sunnyside.
"He's one of the guys that have a vision of what the float is going to look like," Markham said. "He's pretty artistic and he makes some fun things for the float."
Markham also said that Castillo always brings a positive attitude to work with him, something that can be infectious to the other firefighters, especially the volunteers.
Betz has only been with the department for a year but Markham said Betz was a volunteer firefighter in the Spokane area before coming to Sunnyside.
"He hit the ground running in our department and has done an outstanding job," Markham said.
He added that in the year Betz has been with the Sunnyside Fire Department he has contributed above and beyond what is expected of a volunteer firefighter.
The top responder went to the volunteer firefighter with the most responses last year, which was Werkhoven. He responded to 20 general alarms. Ed Laverman was second with 17 responses. Tying for third were Alan Van Beek and David Timmermans.
Also recognized at the annual firemen's banquet were Laverman, Bill Timmermans and Jerry Monroe. Each has a perfect volunteer record for the past 30 years.