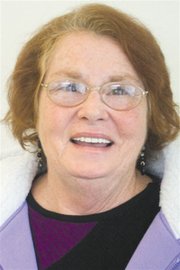 Carol Stone might be leaving the Sunnyside City Council but the long-time resident promises to stay active in city politics and anything else she feels will help the city of Sunnyside.
"It will be just like the years before I joined the council," Stone said. "I will attend city council meetings and I will ask a lot of questions."
Stone was defeated in November's General Election by Don Vlieger.
Before Stone was elected to city council in November of 2005 she wanted to get involved so she started attending council meetings.
"Initially I went to council meetings to learn about the issues and see how they affected the citizens," Stone said.
Soon though, Stone said she saw some things she didn't agree with and decided to run for council herself.
It was a learning experience from the beginning, Stone said. She didn't know enough about council and what the rules were, so she concentrated on learning and training.
"I observed, watched and listened," she said.
Stone did such a good job of this that she earned 30 credits towards her municipal leadership certification. By the time she was finished with her term Stone had earned 60 credits. Only former Sunnyside Mayor Ed Prilucik and current Sunnyside Mayor Pro-tem Jim Restucci have as many credits as Stone does.
Stone was recently recognized at a Sunnyside City Council meeting for earning her advanced CML.
"The advanced municipal leadership award that she receives tonight is the culmination of much dedication and work on her part," Sunnyside Councilwoman Theresa Hancock said at the meeting honoring Stone. "When you become a council member you are automatically enrolled in the program, and for some, that is as far as they go.
"Carol has such dedication to the city of Sunnyside that in four short years she has received her award," Hancock added. "That is an amazing accomplishment. The award is not just for the educational opportunities that a council member seeks out, but a proven dedication to the community."
Stone called the comments by her fellow council member very emotional.
Within nine months Stone said she felt comfortable on the council and learned making the decisions regarding Sunnyside required teamwork.
"I took nothing as a personal victory," she said of the work she did on the council. "I worked as part of a team to put Sunnyside in the best position. I hope it continues."
She helped work on the city's groundbreaking anti-gang ordinance, something she is proud of. She does wish, however, that the state legislature wouldn't have cut out a lot of what was in the original ordinance.
Stone is also proud of the fact that she was always out in the community. As a homemaker Stone was able to attend chamber meetings, continue working with the Lion's Club and volunteer whenever it was needed.
"I was very approachable," she said. "You could find me anytime, anywhere."
There were some negatives to her time on council. Former Sunnyside City Managers Bob Stockwell and Eric Swansen were both forced out of city hall, but Stone said these things were necessary to keep the city moving forward.
"I have no regrets over those decisions," she said.
But she is happy with the direction the city is going in now.
Stone plans on staying actively involved. She is part of the Fifth Street guardrail project, which plants flowers along Fifth Street near Central Park. She is president of the Lion's Club and works on the board of Lower Valley Crisis and Support Services.
To help recharge her batteries, Stone will go on a vacation in 2010.
"I haven't been on a vacation since 1997," she said