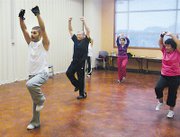 GRANGER - Need some fun, exercise and time with good friends?
Need to burn off some calories as part of your New Year's resolutions?
Consider joining a dance class at the Northwest Communities Education Center, Radio Station KDNA, at 121 Sunnyside Ave., in Granger, the first Thursday evening of each month, from 7 to 8 p.m.
The next dance class will be on Jan. 7.
In mid-February when the weather improves, dance classes will be held every Thursday.
The dance class started about a month ago, but beginners can start anytime and are always welcome.
The dance classes, led by Victor Sanchez, are a way to get exercise, pick up some dance skills and move with the music.
Lessons are geared for beginners of all ages.
"This provides me with an opportunity to get some very good exercise," student Socorro Bazaldua said.
"I work at a desk all day, and I need to work myself physically and mentally," fellow student Irma Martinez said. "Of course, this class is fun, and I like to dance!"
Participants start with basic exercise routines to the beat of popular music. As participants progress, Sanchez will teach them the steps to the Merrengue, Zumba and Cumbia.
"The dance class will be a lot of fun," Sanchez said. "I want people to be comfortable and to release some stress."
He added, "It is a good activity, and it gets people out of their homes one evening a week. It is a good activity for older residents too! It will increase their coordination and self-esteem."
Sanchez has been creating dance routines since he was a student at Granger High School. His dance groups have performed at school assemblies and at community celebrations like Cinco de Mayo, parades, parties and fun events at the radio station. He continues to choreograph routines for his dance group, "4 Jamz."
The dance lessons are free for the first month, Sanchez said. After that, a $20 donation will be accepted, but can be adjusted, depending on a person's finances. Instruction is in both English and Spanish.
For more information, call 509-854-2222, or check out all the upcoming events and news at www.kdna.org.