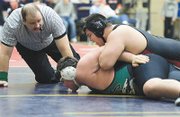 RICHLAND - Unable to keep the momentum going in the championship bouts, the Sunnyside Grizzly wrestling team fell from first to fifth place at the Hanford Winter Cup yesterday, Wednesday.
"It was a five-horse race but we lost almost all the matches for places," said Coach George Paulus.
Entering the final round of competition, Sunnyside looked on course to take the invite title. But some struggles in the final matches sent the Grizzlies to fifth place out of 17 teams with 160 points.
The close competition was evident in the fact that the top five teams were separated by just 18 points.
Othello took first-place honors with 178 points, followed by East Valley of Spokane ((169.5), Shadle Park (169), Reardon (161) and Sunnyside.
Sunnyside had two invite champions to lead the way.
Nathan Gonzalez (103 lbs.) improved his season record to 20-0 for the Grizzlies by going 4-0 at Hanford and claiming the title with a 3-0 win in the championship match over Josh Andrews of Richland.
The other champion was Jose Barajas (285 lbs.), who prevailed over RJ Harris of Hanford 7-3 to take the title.
The Grizzlies had two other wrestlers advance to the championship round, only to be defeated and claim second place honors. One was Gerard Villalobos (112 lbs.), who lost 4-2 to Kyle Mars of Richland in the finals. The other runner-up was Ryan Hernandez (160 lbs.), who lost in the finals by a technical fall to Armando DeLeon of Othello.
Sunnyside's Emmanuel Tejeda (130 lbs.) claimed third place honors with a 9-6 consolation finals win over Drew Keler of East Valley of Spokane.
Three Grizzlies finished in fifth place, Danny Almeida, Caleb Gomez and David Vidales.
Almeida (215 lbs.) reached the semifinals before losing his last two matches, including the consolation final 6-3 to Joey Meade of East Valley of Spokane.
Gomez (152 lbs.) also lost in the final round of competition, defeated 5-3 in the consolation finals by Nick Cloeck of East Valley of Spokane.
Vidales (125 lbs.) lost to Waylon Anderson of Reardan in the consolation finals by a pin.
Sunnyside had one other placer, Jaime Gonzalez (103 lbs.). Gonzalez earned third place honors, but his placing didn't count on the Grizzlies' team total because Sunnyside already had a full complement of 14 wrestlers.
While pleased with his team's overall effort, Paulus felt the Grizzlies could have done better.
"We did OK, but I think we have greater potential than that," he said. "We needed those tight matches."
The Grizzly junior varsity wrestling team hosts a JV tourney this coming Saturday and the varsity returns to action next Thursday, Jan. 7, when it faces Eisenhower and Davis in a double dual meet in the Ike gym.