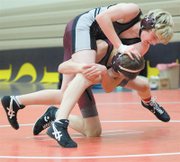 RICHLAND - Adam Morales won the 215-lb. weight class to lead the Grandview Greyhound wrestling team to a sixth place finish at the Hanford Winter Cup yesterday.
The Greyhounds scored 99 team points in Wednesday's competition, just edging host Hanford High School for sixth place honors in the 17-team event.
Morales ended his undefeated day with a 4-3 overtime win in the championship finals over Ty Williquette of Reardan. Morales prevailed in the fourth overtime when he recorded an escape.
Grandview's Chris Ramirez (285 lbs.) claimed third place honors yesterday with a pin of Reardan's Gabe Miller in the consolation finals.
Also finishing in third place was Grandview freshman Christian Ruiz (119 lbs.), who defeated teammate Jaron Raymond, also a freshman, by a score of 5-0 in the consolation finals. Raymond ended the day in fifth place.
"They've both had a really good year so far," Grandview Coach Jeff Sevigny said of the two youngsters. "They wrestled well in the tourney."
Marco Gonzalez (125 lbs.) was also fifth for Grandview after a close 3-2 loss to Levi Larson of Republic in the placing round. "He wrestled well enough to finish in the top three," Sevigny said of Gonzalez.
Grandview had two other fifth place finishers, Juan Guzman (160 lbs.) and Isaac Alaniz (189 lbs.). Both wrestlers won their first two matches before falling in closely contested semifinal matches and then losing in the consolation round.
Guzman lost in the semifinals 10-9 to Ryan Hernandez of Sunnyside, while Alaniz lost 10-8 in the semis to Dylan Lemery of Shadle Park.
"They were so close to being in the finals," Sevigny noted.
The Grandview wrestling team now has a few days off before travelling to Ellensburg next Tuesday.