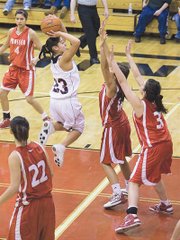 A poor start and too many turnovers proved to be the downfall for the Sunnyside Lady Grizzlies as the Prosser Mustangs won a non-league basketball game last night, 71-39.
Prosser, a 2A State placer last year, came out with a press that caused Sunnyside all kinds of trouble in the first quarter.
"They pressed us and we didn't do a good job of handling the ball," Sunnyside Coach Eric Berg said.
The Mustangs built up a 28-5 lead in the first period and Berg said 18 of those points were scored after Sunnyside turned the ball over.
The Lady Grizzlies bounced back in the second quarter, led by Sam Wright. Sunnyside outscored the Mustangs 17-13 to chip away at Prosser's lead.
"When you don't have as many turnovers you have the opportunity to score some points," Berg said. "We were able to get to the free throw line, too."
Berg said the Mustang press eased up in the second quarter and that allowed Sunnyside to move the ball more freely. The Grizzlies played aggressively and were soon going to the line for free throws. Sunnyside made 30 trips to the free throw line in last night's game but could only connect on 10 shots.
To start the second half Sunnyside had a tough time getting going and again the lid on the basket seemed to close for the Lady Grizzlies. Prosser, however, got off to a good start and outscored Sunnyside 21-7 in the third quarter and built a 62-29 lead heading into the fourth quarter.
"We got killed on the boards," Berg said. "We would force Prosser into a tough shot but they would get second and third opportunities off of offensive rebounds."
Sunnyside was led by Wright with 14 points.
"She's been playing really aggressive lately," Berg said. "She had a nice game. She got to the free throw line 13 times and is stepping up as one of our team leaders."
Sarasa Partida added 12 points for the Grizzlies. Zenaida Perales had seven points. Daisy Rodriguez finished with two points and Toni Castillo had one point.
Taysla Hunt led the Mustangs with 19 points. She was followed by Tamara Jones with 16. Helen Hudak had 10 points. Sydney Mercer, Helen Paterson and Taylor Flores each finished with six points. Kelli Wilson added four points and Rachel Aderson and Teresa Garza added two points each.
Berg said he stressed three things to his girls after the game. He said they must take better care of the ball, make their free throws and do a better job of rebounding.
Sunnyside (1-0, 1-5) will travel to Yakima on Tuesday, Jan. 5, for a 5:45 p.m. game with West Valley.