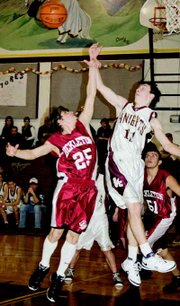 The Bickleton Pirates hit the hardwood at Sunnyside Christian and lost 80-16 last Friday night.
Pirates Coach John Jensen said he knew the Knights were going to be tough. "They are a well-coached team that is physically bigger and they overpowered us," he stated.
Giving credit to his team for its determination, he said the Pirates worked hard and did what they could against Sunnyside Christian.
Jensen said his team played man-to-man defense and switched to zone, but in giving every ounce of fight were unable to overcome the Knights, who were ranked fifth in the state in recent polls.
Edgar Molina was the top shooter for the Pirates with eight points. Patrick Maeder, Andrew Venema and Junior Hernandez each tossed in two points.
This past Saturday's non-league homecoming game against the LaSalle Lightning JV was more encouraging, according to Jensen.
"The game against LaSalle was a little more evenly matched," he said of his team's 43-30 win, stating he felt the Pirates played excellent defense and ran a lot of "cutters" through the key.
Bickleton's man-to-man defense worked well for the team and offensively the Pirates were able to get through screens.
"We did a good job and Patrick Maeder was able to hit the ball from the outside, which looked good," said Jensen, noting Maeder's three 3-pt. baskets.
He said scoring from outside the key lifted morale.
Maeder scored 11 points overall and provided two assists, but the top score for the Pirates was from Venema. He tossed in 18 points and blocked the ball twice.
Molina was the top rebounder with 14 boards. He scored eight points, stole the ball three times and had two blocks.
Craig Osborne sunk the final six points for Bickleton.
The Pirates (0-6, 7-9) will travel to Klickitat this coming Friday and host Yakama Tribal Saturday for the final two games of the season.