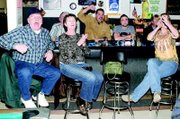 For the second time in the past two weeks, Grandview Police were led on a high speed chase that ended in Sunnyside.
Grandview Police Officer Travis Shephard attempted a traffic stop just prior to 1 p.m. this past Saturday afternoon for what appeared to be reckless driving on Wine Country Road near I-82 exit 73.
The driver, Humberto Camacho, 26, of Granger failed to comply with the officer's attempt and proceeded to elude the officer at a high rate of speed.
Shephard followed the suspect vehicle, a 2007 Chevrolet Malibu, to North 16th Street in Sunnyside, where pedestrians and vehicles in the area were nearly struck.
Noting the danger to those not involved in the chase, Shephard struck the suspect vehicle with the Grandview patrol car, a 2008 Dodge Charger, causing the suspect vehicle to hit a third vehicle driven by Rafael Cisneros, 29, of Granger.
Shephard suffered minor injuries and his patrol vehicle sustained an estimated $3,000 damage.
Camacho's vehicle was totaled and towed from the scene at South 16th Street and East Lincoln Avenue.
Cisneros' 2006 Toyota Tundra was driven from the scene with approximately $2,000 damage. He and his passengers, Esperanza Sanchez, 23, of Granger and a minor child were not injured in the incident.
The Washington State Patrol is investigating the collision.