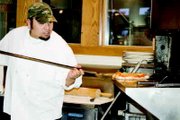 Few people can say they landed in their chosen profession because they helped a good buddy prepare a meal for 200 people. But Art Holguin can.
Holguin, the chef at Snipes Mountain Brewery and Restaurant, said, "I got turned onto (being a chef) by a very good friend who knew a very good chef.
"I'm somebody who helped pump out 200 dinners and enjoyed it," he said.
And, he adds, "It's rewarding to come out in the dining room, see everyone laughing, smiling. Just enjoying the hum of the atmosphere."
At Snipes, Holguin oversees two cooks, a prep cook and two dishwashers. Among his duties are assisting with cooking, ordering food and creating the staff's schedule.
He also coordinates banquets with the manager.
"I'll give customers different options, different routes they can go (with the food at their occasion)," he said. Snipes, he said, hosts gatherings like weddings and business meetings, and the number of guests can range from 30 to 200.
"Weddings I really enjoy, birthday parties, stuff like that," he said.
It's also up to Holguin to determine what the special of the day will be and he determines that based on inventory.
Holguin said he's been working in this particular area of service since 2001. Prior to making his move to Snipes, he worked at Legends in Toppenish.
What he loves about the job is that no one day is the same as the next.
When he began thinking of his future, he said, "I kind of pictured myself where no two days would be alike-9 to 5 jobs are great, but I'd go stir crazy."
Being a chef, he says, is no different than being an artist. "You create with food, expressing themes creatively. It's just a different medium," he said. "That's the difference between who is just here for a paycheck and someone who genuinely enjoys what they do."
Snipes, he said, is truly diverse. "You can come in here for pizza and beer or pasta or steak. Fish? Then you can have salmon."
Holguin brought some of his personal recipes when he came to Snipes, like crusted salmon and rock crab stuffed talapia. But some of the most interesting recipes come from customers.
"Sometimes people will come in with stuff they've seen on TV or hotel menus. They bring it to me and I can tell them if it's feasible."
In fact, he was able recently to cook for a Sherlock Holmes themed gathering. Organizers brought him actual hotel recipes from the early 1900's for pan seared duck with a cherry glaze and spinach rockfeller. "That came out well," he said.
"I definitely enjoyed that, I never would've come across that!"