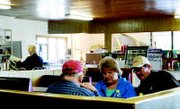 The Silver Dollar Café at the SR-241 and Hwy. 24 interchange north of Sunnyside has been a mainstay for many years. The eatery closed temporarily, but new owners Rick and Martha Lounsbury reopened the cafe earlier this month.
The Lounsburys have remodeled the kitchen at the café and Martha said travelers are noticing it is open once again.
She said a lot of the patrons of the longtime watering hole are from nearby farms and the Hanford site.
"I am learning something new about this place every day," said Martha, stating the café has its legends.
She said one regular has shared with her the building itself was once a warehouse in Sunnyside. Another said he remembers when it was first located at its current site. That customer also remembers when a truck drove through the eastern wall of the dining establishment.
Martha said that customer informed her that the wall was reconstructed with petrified wood from nearby farming land.
She is not certain how many of the stories are folklore and how much is accurate. But, she is interested in finding out.
As to how the Lounsburys came to own the Silver Dollar Café, she had expressed a desire to "do something different...like own a café."
Rick is employed at Hanford and saw that the Silver Dollar was up for sale. He offered it up as an option for Martha and she readily looked into the new venture.
"I am a travel agent, but I sold out my part of the agency so I could do this," she shared, stating she will continue to serve travel customers from her personal computer.
As for now, the Silver Dollar menu is one of simple fare. Martha said she wanted to offer "comfort food" to weary travelers, hunters, fishermen and those who work at the Hanford site.
"Coffee is a must," she laughed, adding she offers a daily soup special and on Fridays the special is fish and chips. One customer described the bowl of soup as a "bucket of soup," and she laughed, stating she feels customers should leave feeling as though they have been served a hearty meal. She also offers fresh baked cinnamon rolls each morning.
"I hope we are a welcome stop to all passers-by," Martha said.
She has hopes of expanding the menu as more patrons recognize the café is open.
In the meantime, the Lounsburys are enjoying the opportunity to meet new people in a casual atmosphere. Martha wants all who stop in to feel at home, taking the opportunity to sit and visit. She wants them to share stories and memories with one another while feeling cozy in her establishment.