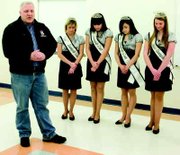 Amid Sunnyside residents and members of the group known as Transformation Sunnyside, the 2008-09 Miss Sunnyside Court last night unveiled its community service project, which is to help promote the ideas of Transformation Sunnyside.
Transformation Sunnyside is the culmination of an idea where leaders of the community come together and pray over the city. This includes businessmen, pastors, school superintendents and governmental leaders of the community.
Their mission is to bring these leaders together and form a Christian bond that will support the city leaders through prayer and encouragement to overcome some of the problems Sunnyside faces.
The group's mission is to bring this message to as many people in the city as they can. This is where the Miss Sunnyside Court is helping out, by spreading the message of Transformation Sunnyside.
"We are trying to change the world, starting with Sunnyside," Miss Sunnyside Rebekah Paulakis said.
Paulakis told those gathered that each member of her court tackled a different aspect of the city. Each young lady went around talking to different people to see what needed to be changed in Sunnyside.
Paulakis spoke with members of the Sunnyside community. Miss Sunnyside First Princess Avalon Valencia interviewed six educators in the community. Miss Sunnyside Second Princess Ivette Torbay interviewed local government officials and Miss Sunnyside Third Princess Audra Hays spoke with business leaders in the community.
The court interviewed their contacts and asked them what changes they would like to see in the city. The young women then each made mini-DVDs, relating what they learned about what people want in Sunnyside.
"We learned everyone has different ideas but all seem to come together as one," Paulakis said. "Everybody has the same goal of helping each other out, as well as Sunnyside."
The Miss Sunnyside Court last night allowed the audience to view their mini-DVDs and Paulakis said they will soon be available on YouTube.com. They are also hoping to pick up some extra publicity when they send copies to Oprah.
The court, along with members of Transformation Sunnyside, will also show the DVDs when they speak publically. There will soon be a copy for viewing at the Sunnyside library, as well.