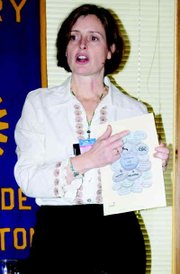 Children's Village has been serving the Yakima Valley since 1997 and has had an office in Sunnyside since 1999, according to Director Diane Patterson.
She was the guest speaker at Monday's Sunnyside Noon Rotary Club meeting and explained the organization was formed as a cooperative between Sunnyside Community Hospital, Yakima Valley Memorial Hospital, the Memorial Foundation, Yakima Valley Farmworkers Clinic, EPIC and the community.
The reason Children's Village was formed, according to Patterson, was to assist families of children suffering from chronic illnesses, such as cerebral palsy and down's syndrome. She said there was a need to provide families with medical and specialty services otherwise obtained in the Seattle area.
"Families would have to travel to Seattle for a specialist," said Patterson, elaborating that those families seeking specialty services many times had several specialists in several different locations with whom appointments were scheduled.
By forming Children's Village, Yakima Valley residents with children in need of specialized care have one centralized location where needs can be met.
Patterson said there are 30 different services offered through the organization. Those services range from dental care for special needs children to parent support...medical practitioners to training and education for providers, among other services.
Funding for Children's Village is obtained through a variety of sources, including more than $500,000 in community support. Third party insurance provides 27 percent of the organization's monies, but state and federal funding is another 28 percent of the organization's contributors.
Patterson said approximately 900 of the nearly 3,900 children served at Children's Village are from Sunnyside and surrounding areas.
"Because so many families from the Sunnyside area are served by us, we are looking to play a greater role in serving the needs of those families," she said, stating her organization is looking for input from community members on how to best meet those needs.
"We feel we aren't doing as good a job as we should," Patterson went on. She said the Children's Village office at the Mid Valley Mall provides a number of services, with the exclusion of dental and on-site child care services. But, she feels the organization can do more.
The Lower Yakima Valley, if Toppenish is included, makes up 45 percent of the families serviced by the organization and Patterson said, "The premise of Children's Village is to respond to the community and what it needs...how it will best be served."
She encouraged the Rotarians to let her know and to have others provide input on how best to serve the needs of Sunnyside and its surrounding communities.
When asked about state and federal budget cuts, Patterson said her organization is looking at ways in which it can streamline and become more efficient. She said Children's Village is projecting the need to reduce its operating costs by $500,000 per year for the next two years, but she believes it can be done through "being smarter and more efficient."