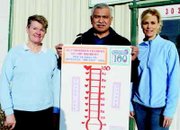 GRANDVIEW - In an effort to commemorate Grandview's centennial anniversary, Grandview Blood Drive Coordinator Eva Russell and the American Red Cross have set a goal of drawing 100 pints of blood this year.
Russell feels it would be a good thing to exceed that goal, so she is anxious to see how soon the community can fill the meter to be displayed at each of the drawings this year.
"This is a good way to donate a life saving gift and to reconnect and visit with members of the community while enjoying edibles, coffee and punch," she stated.
In addition to the blood draws, Russell said community members are being encouraged to share historic recipes and treats throughout the year at each of the blood drawings.
The drawings are held the third Thursday every other month, with Feb. 19 as the next blood drawing date on the calendar.
This month's drawing will be held at the Vineyard from 3 to 7 p.m. Subsequent drawings will be held at the same times at Grandview's Carl L. Stevens Center.
For more information or to share a recipe, call Russell at 882-1695.