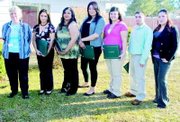 GRANDVIEW - In front of about 30 people yesterday six students graduated from the Grandview Health Care Center Nursing Assistant Class.
This is the 10th such graduation since classes started in June of 2007.
Dee Sparrow, an RN at the care center and instructor for the course, said the students spent between six and seven weeks earning 150 hours of education to complete the course. The students met four days a week for eight hours a day.
During the course students learn the basic nursing skills that allow them to work in a profession of caring and compassion.
She said this is just the beginning of a long career in health care for many as some will continue their education and earn their degrees in nursing.
Some of the skills they learned were CPR and first aid, and feeding.
By learning these skills the graduates now have opportunities to work in skilled nursing, hospitals, home health, hospice and clinics. They are designated a nurse assistant registered and must take their boards to become certified nursing assistants.
Four of the six graduates already have landed jobs. Two will stay at Grandview Health Care Center and two more will come to work in Sunnyside at Hillcrest Manor.
"I'm very excited, said Felicia Delgado, a graduate who will be working at Hillcrest. She plans on taking her boards within a month and would eventually like to earn her LPN status.
Angelita Torres was also excited to graduate from the class.
"I feel like now I can go ahead and pursue better opportunities for me," she said.
Torres said she also wants to earn her LPN designation but for now will be content with working in home care.
Sparrow said the next class begins Feb. 17 and there is a two to four-month waiting list to take the class. Cost for the class is $30, which pays for the student's state registration.