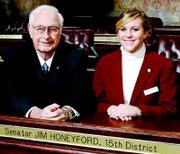 OLYMPIA - Kathleen Dolan, a junior at Sunnyside Christian High School, took time away from her studies last week to participate in the Senate Page Program. She was sponsored by Sen. Jim Honeyford (R-Sunnyside).
The Senate Page Program is an opportunity for Washington students between the ages of 14 and 16 to spend a week working in the Legislature. Pages are responsible for such tasks as running errands and delivering mail. They also spend time in the Senate Chamber and in page school learning about parliamentary procedure and the legislative process. Approximately 20 students participate in the program each week during legislative sessions.
"It's great to see students like Kathleen take advantage of this unique opportunity to learn about what we do over here in Olympia," said Honeyford.
Dolan heard about the program from her mother and wanted to participate to get a better understanding of how government works.
"As I get older, I see what a big effect government has on our lives," Dolan said. She enjoyed her time as a page and encourages other students to participate if they have the chance. "Take the opportunity to come here because you're going to learn a lot," she added.
While Dolan had previously met Sen. Honeyford, she appreciated getting a chance to spend time with him at the capitol. She also enjoyed spending time in the Senate Chamber and getting to know the other pages.
In her spare time, Dolan enjoys plays, musicals and playing in her school band. She hopes to attend college on the East Coast, and plans on majoring in business. Dolan is the daughter of Barbara and Larry Dolan of Sunnyside.
Junior high and high school students who are interested in the Senate Page Program are encouraged to visit http://www.leg.wa.gov/Senate/Administration/PageProgram/.