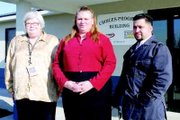 Sunnyside's Choices program has three staff members who are dedicated to showing troubled youth unconditional care.
"We care about them unconditionally and they know that," said At-Risk Educator Cherry Fairbanks.
She and fellow Choices staff members, Support Specialist Ben Silva and Classroom Teacher Dawn Hill, love what they do.
"I don't consider myself a conventional teacher...I love teaching, but I believe in multi-faceted teaching...seeing the individual in each of my students," said Hill.
Silva agreed, stating he enjoys talking with the students one-on-one, providing them with a broad perspective of the world around them.
He said it is important that students experience honesty and openness with the staff members helps provide students with a sense of respect. Silva said they respect the staff members and themselves more when a staff member is candid with them, according to all three staff members.
Silva added sharing his own life experiences opens the students' eyes to the impact that positive choices can have. "I help them realize the impact poor choices have on their families," he shared.
The three said they engage in discussions with the students participating in the Choices program, giving the students options and pointing out the deceptions of gang activity. Examples of the deception include the glamour and attention and promises gangs make.
Hill said many of her students choose to become involved with gangs because they want what other students have like nice clothing and healthy meals. She said gangs are seen as honorable and promise to take care of members. When students feel a need for those things, they tend to listen to the gangs.
"Many of their parents work in the field and they feel like outcasts in school," she stated, saying gangs promise to help the students feel as though they belong.
Fairbanks said the goal of the staff at Choices is help students function well in the school environment. "It would be lofty to say we can touch them with a magic wand and they would get out of the gangs," she stated, explaining saying the Choices staff only hopes to impact the youngsters in a positive way, teaching them to make better choices.
The staff's first focus is teaching the students tolerance, said Hill. She said it is one of the primary goals in her classroom because many problems with gang members arise because of colors.
Silva agreed saying he gets involved with the students, providing interventions and teaching the students to trust others.
The program recently saw two students successfully re-enter Sunnyside High School.
Fairbanks said the students take the trust they develop in the program with them and know they can visit her in her office at the high school.
She also checks in on the students' progress regularly at the high school, ensuring a safety net once the students are back in that environment.
"It's hard not to care about the kids...I worry about them, especially when I fear no one else does," said Hill.
Fairbanks added that the staff at Choices doesn't see the gang member, but the child under the exterior.
Because of that, Hill said the group is torn when they have to send a student home. She said one of the guidelines students must follow is that they do not arrive wearing gang attire. If a student does, the staff must send that student home.
"We want them here, but they have to be ready. Wearing colors to the program is a sign the student is not ready," Hill stated, adding that there is hope just in the fact that the students want to be in her classroom.
"Each of us has our different strengths," said Fairbanks, explaining she knows between the three staff members one will connect with the students in the program.
Hill said the students realize it is the choice of the individual which staff member they feel most connected with. That staff member, in turn becomes a person the student feels comfortable with and can rely upon.
"They don't often get many choices in their lives," she stated.
Silva has a degree in social work and his specialty is helping the students with a variety of issues. If they are withdrawn or disruptive, he can spend one-on-one time with the student. He helps the students to open up and work through problems.
"Parents are assured with my presence because they know they can talk to me," he added.
Both Fairbanks and Hill said Silva also serves as a strong male role model for the students. "Many of them don't have a good male role model in their lives," stated Hill, adding Silva's experience as a father also helps the youngsters realize he knows what he is talking about.
"We want the students to look beyond the box they have been exposed to because it leads to either a box six-feet under or a six-by-six cell," Hill said.
Fairbanks added to that, saying she hopes the students will also realize "not all that glitters is gold."