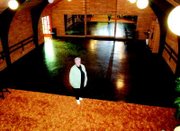 Sunnyside's Martin's School of Dance has seen many changes over the years. Moving to larger studios has made those changes possible.
Earlier this week, the school moved to its fifth Sunnyside location at 1420 E. Edison Ave. since Linda Martin opened her home to students in 1988. She explained the move also involved a name change for her school. It has been changed to Martin's School of Dance Theater Arts Center in anticipation of providing more programs
That wasn't the beginning of her career as a respected dance instructor in Sunnyside, however. She taught her first students in the 1960s and left the community to gain more training in Mississippi for a few years.
Martin returned to Sunnyside in 1976 and opened her first local dance studio, in addition to a gym for local gymnasts. The dance studio was on the second floor of Sunnyside's Lincoln School at the corner of South Sixth Street and East Lincoln Avenue.
The time teaching both gymnastics and dance was filled with a busy schedule, and Martin left Sunnyside to coach and judge gymnastics for six years in 1982.
Her final return to Sunnyside was in 1988. "Can you believe I have stayed here now?" she asked with a laugh.
Four different locations, including her basement, have housed Martin's school for the past 20 years. She said the East Edison Avenue location will be a permanent home, however.
The building most recently housed Harold Clark Art Gallery. It became available and Martin said, "This building is an answer to prayers because potential for growth is now available."
She said the former location of her school on South Seventh Street housed two studios and was becoming cramped.
Now, she has five rooms she can use for studios, with the largest having room for a small stage.
Martin currently has three senior dance instructors, Cheryl Crossley, Kristine Gimlin and Dina Hopper. With the additional space, she can add instructors to her staff.
"I like creating an environment that is much like a second home...especially for students involved in more than one class," said Martin.
She has been busy preparing each of the studios and has two open for classes. As the moving boxes are emptied and dance attire finds its rightful home, Martin will open up the other studio space for classes.
"Right now, we are on our old schedule, but I have been sitting down and thinking of all the new options available to us," she stated.
She envisions programs involving drama, singing and theater for youngsters in the community.
"Now I have space for small pageants and etiquette classes," Martin added, stating she has plans to open the school during the summer to provide youngsters in the community with a variety of activities and programs to keep them active.
Details regarding those activities and programs are expected to be released this spring.
In addition to the regularly schedule classes, a non-profit dance team operates out of Martin's school. The show team consists of 20 of Martin's students who practice on Saturdays. That group operates with funding from sponsorships and fundraisers.
One such fundraiser involves the sales of Cookie Lee jewelry. It is currently underway and Martin said persons interested in ordering jewelry to assist the dance team can do so by calling the school at 839-7927.
"They can also call to sponsor the team," said Martin.
For now, she radiates with excitement over the changes being made. "I have so much I can do now," she said with jubilation.