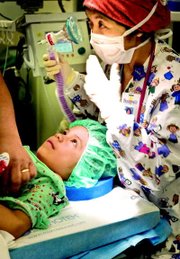 Entering an operating room is a little intimidating if you're not a patient and can be downright scary if you are one. That's why it is so important to have someone by the patient's side that will inform them of what is happening every step of the way. In Sunnyside, these people are nurse anesthetists, known as CRNAs.
"I believe I speak for the majority of today's CRNAs when I say that one of the most fulfilling parts of my job is reassuring patients that I will be by their side throughout their entire procedure, monitoring every beat of their heart and every breath that they take, and ensuring the safe provision of anesthesia and the effective treatment of pain," Jackie Rowles, president of the 40,000 member American Association of Nurse Anesthetists, said in a press release celebrating National Nurse Anesthetists Week this past Jan. 25-31.
Certified registered nurse anesthetists are advanced practice nurses who administer approximately 30 million anesthetics in the United States each year. They are the forefront of anesthesia patient safety, practicing in every type of setting where anesthesia is needed.
And just like at Sunnyside Community Hospital, CRNAs are the sole anesthesia providers in nearly two-thirds of all rural hospitals.
At the Sunnyside hospital there are three CRNAs, said Sunnyside's Chief CRNA Fe Demiar. She was an ICU nurse for 20 years before joining the U.S. Army to be trained as a CRNA. Demiar has been working in this field for a little over 10 years now.
What exactly is a CRNA? They are licensed professional nurses that provide anesthesia services the same as an anesthesiologist (MD) would. Working closely with other health care professionals such as surgeons, dentists, podiatrists and anesthesiologists, a CRNA takes care of a patient's anesthesia needs before, during and after surgery or the delivery of a baby.
They do this in many ways, starting with performing a physical assessment and reading the patient's chart.
Demiar said this step is one of the most important as knowing the patient's history is vital to providing anesthesia in a safe, effective manner. She checks to see if the patient is sick, has allergies or some other aliment. Any family history of troubles with anesthesia is also important to know.
Demiar meets with her patients before each procedure and educates them as to what she will be doing and how she will do it.
"The patient can be congested or sick," she said. "We must assure anesthesia safety so we're constantly weighing these things."
Once the CRNA has determined that the patient is suitable for anesthesia they are ready to be put under. This is done by putting a mask over the patient's face and then administrating gas to put them to sleep.
During this process there are three stages before the patient is in a deep sleep. During stage two of the process the patient's heart rate increases as the body transitions from a waking state to a sleeping state.
Demiar said it is very important not to bother the patient during this time. Once they reach stage three the patient is in a very deep sleep.
The amount of gas being administered is then backed down and the CRNA monitors the patient's vital signs to ensure they stay at a certain level of sleep. To describe this, Demiar used the analogy of a pilot, making sure the plane stays at a constant level for smooth flying.
Rowles added in her press release that patients are often asleep or sedate while under the care of a nurse anesthetist in the operating room and usually don't recall that a nurse anesthetist is caring for them.
Patients often associate their anesthesia experience with the fading of operating room sounds and activities only to safely awaken later in the recovery room.
But while their patients sleep, Rowles continued, CRNAs remain vigilant during the procedure, checking their patients' vital signs, adjusting their anesthesia and bring them back to consciousness when the surgery is complete.
Becoming a CRNA requires a Bachelor of Science in Nursing degree or other appropriate baccalaureate degree, a license as a registered nurse and a minimum of one year of acute care nursing experience. A typical graduate program will take between 24 and 36 months.
Demiar said she enjoys and likes what she does, adding she is constantly thinking on her feet and making decisions.
"It's very scary sometimes but challenging," she said.