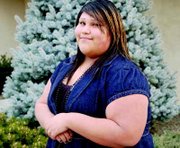 Seeking to become the first person in her family to attend college, Sunnyside High School sophomore Arasele Prieto is vying to be a part of Sunnyside's 2009-10 Miss Cinco de Mayo court.
"For me this is something big," she says. "No one in my family has done anything like this."
Prieto, the daughter of Maria Prieto and Arnulfo Sosa, is the second to youngest of eight siblings. She smiles and says of her family, "They told me they're proud of me. They want me to be the first to go to college."
Prieto also hopes her candidacy for the Miss Cinco crown will help girls who are shy, or reluctant to meet others.
"My mom owns a taco truck and I got used to talking to people, greeting people," she says. "I like getting to know new people and I want to show the girls that aren't outgoing that it's okay to meet new people."
Prieto, who just turned 17 two weeks ago, is involved in activities at Sunnyside High School that include bowling, pep club and the drama club.
She has a 2.78 grade point average and says she wants to attend Washington State University to become a registered nurse.
For her community service project, Prieto wants to volunteer at Hillcrest Nursing Home in Sunnyside. She says she'd like to serve however needed.
Prieto said she's also interested in volunteering at Sunnyside Community Hospital. "I'm willing to learn," she says.
Her interest in the medical field stems, Prieto said, from a desire to "make sick people feel better."
Prieto has a personal stake in the health care field.
"Ever since my dad got diabetes when I was 10 years old I've wanted to help sick people," she says.
Prieto said diabetes runs in her family and so as part of her community service she would like to raise diabetes awareness in the Sunnyside community. "I want to help," she says.
The Hawaiian-themed Miss Cinco de Mayo pageant will be held Friday, April 17, at 7 p.m. in the Sunnyside High School auditorium. Prieto said her talent for that night will be singing.
&nbsp ;