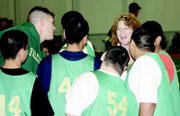 Sierra Vista Middle School Special Olympians are readying for the Winter Games in Wenatchee in March after competing at Cheney's Eastern Washington University late last month.
"We play basketball to represent the Sunnyside community...in the junior division," explained Julie Tyus Sierra Vista Special Education teacher.
Of the competition in Cheney, Tyus said, "We played a tall and tough Spokane Valley team."
Tyus said it was poignant how great the athletes treated each other. "Both teams demonstrated excellent sportsmanship and had a great time on and off the court."
Sunnyside's team, Tyus said, "walked away with pride, better basketball skills and a gold medal as well."
Sunnyside took top honors in the Junior division.
This qualified the students to compete at the Winter Games in Wenatchee in March.
"There will be over 1,500 Washington athletes with special needs participating in winter sports such as skiing, snowboarding, and, our favorite, basketball."
But perhaps that wasn't exactly the athletes' main trip highlight.
"I think if you asked them their favorite part of the trip, they'd tell you it was sleeping in a nice hotel," said Tyus.