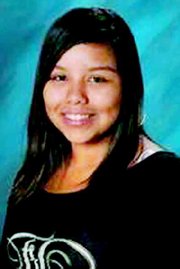 PROSSER - The Sunnyside Police Department has closed the case of a Sunnyside girl missing since last October.
The body of Francisca (Vanessa) Hernandez Ramirez was found this past Thursday in the Yakima River near Prosser. According to a statement issued last Friday by the Benton County Sheriff's office, detectives estimated the body had been in the river for 30 days or longer.
Ramirez was last seen on Oct. 20, 2008 and since then the Sunnyside Police Department has conducted an exhaustive three-month investigation into the whereabouts of Ramirez.
The investigation was conducted with the assistance of the Pasco Police Department, Yakima County Sheriff's office, Benton County Sheriff's office, Roza Irrigation District, Sunnyside Valley Irrigation District, Yakima County Search and Rescue, FBI, Port of Seattle Police Department and a private firm out of King County called VideoRay.
Sunnyside police say the 14-year-old's death has been turned over to the Yakima County Sheriff's office, which is conducting an investigation.
At this time, the Sheriff's office says her cause of death appears to be homicidal violence.