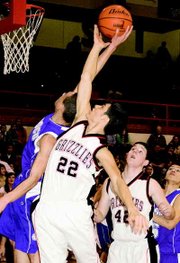 In a battle between second and third-place teams, 4A Pasco held off 3A Sunnyside 73-52 this past Friday in league play.
The third-place Grizzlies kept things close early at home against Pasco.
Sunnyside (6-5, 9-8) trailed the visiting Bulldogs just 16-12 after one quarter thanks to Pedro Vargas's eight points for the Grizzlies in the opening quarter.
Vargas went on to score a team-high 15 points. "Pedro started off real strong. It was one of his best offensive games for us," said Sunnyside Coach Ron Rowe.
Pasco showed signs of pulling away in the second stanza, outscoring Sunnyside 24-17 to grab a 40-29 lead at the half. The Bullldogs connected on 11-of-19 shot attempts in the second quarter, nearly a 60 percent clip.
"In that particular quarter they were able to effectively run an inside curl and get a guy open on the baseline quite a few times," Rowe said of Pasco's play in the second quarter. "We didn't adjust to it very well."
The guy that got open time and again for Pasco was Anthony Scales, who scored 11 of his game-high 17 points in the second quarter.
Sunnyside's Alfredo De La Barrera kept the Grizzlies in striking distance, scoring all 12 of his points in the second frame to at one point get Sunnyside to within eight points of Pasco.
The Bulldogs, though, kept the advantage at double figures after two quarters, then really made things tough for Sunnyside with an 18-12 third quarter run.
Hampered because De La Barrera had to sit with foul trouble in the second half, Sunnyside found itself down 58-41 entering the fourth and final quarter.
"In that third quarter they (the Bulldogs) were able to push out a little more and their lead pretty much stayed between 12 and 15 points," Rowe said.
Early in the fourth quarter Sunnyside had a chance to make things interesting. The Grizzlies, though, missed out on one chance to cut the Pasco lead to 10 points and another time unable to convert on a possession in which they could have cut the deficit to nine points.
De La Barrera had a team-high eight rebounds to go with his 12 points, while Tristan Abbott collected five boards for the Grizzlies.
Sunnyside's Jordan Esqueda dished out six assists and Vargas added three to go with his 15 points.
Besides Scales's 17 points, Pasco's Robert Manteno and Andre Griffin also tallied in double figures with 14 and 12 points, respectively.
As Sunnyside nears the end of its regular season - there are only two games left after tomorrow's game at Wenatchee - Rowe said the Grizzlies showed some positives on defense in last Friday's loss. "We did a pretty good job of controlling the three (point) shooting," he said.
But there's work to be done, as Friday's loss showed.
"We were a little inconsistent in our rebounding, we gave up some second and third shots," Rowe said. Speaking of play in the paint, he added, "We didn't adjust real well to the inside action on the baseline, they hurt us on that."