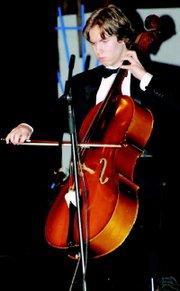 Sunnyside High School's 10th annual Hospice Benefit Talent Show was held this past Saturday and more than $2,500 was raised for Lower Valley Hospice and Palliative Care.
"A Night In Lights" proved to be an evening of memories for all involved.
Winning the talent show was Kelley Bridges and Marielle Abbott for their clogging performance of "An Entertaining Number You Normally Wouldn't See On a Farm." The duo won $75 for their efforts.
Runner-up, winning $50, was Gracen Gonzalez. He provided those in attendance with a vocal performance of "Reggae LP/Can't Believe It," while wowing the audience with his ability on the electric guitar.
Third place honors and $25 were awarded to Nataly Alvarez, Jessica Bonilla and Crystal Bonilla. The trio performed an interpretive dance and sign language performance to "Redeemer."
There were 23 performances at the talent show, all of which exhibited a wide range of talent and spirit.
Intensely focused, Sunnyside High School student Kurt Furan performs "Bpurre" from Bach Cello Fuite #6 at this past Saturday's talent show.