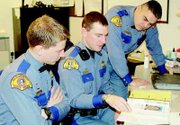 GRANDVIEW - Fresh from successfully completing State Patrol cadet training, troopers Andres Martinez and Trevor Downey began their careers last week with the State Patrol office just east of Grandview on I-82.
Formerly located in Sunnyside, the detachment is receiving two of only three new troopers that will begin their career east of the mountains. The other 35 new troopers commissioned last week are all serving in western Washington.
Sergeant Tom Foster of the Sunnyside/Grandview detachment said it is rare for new troopers to be assigned in eastern Washington. He said vacancies here are typically filled by veteran troopers seeking to move from west of the mountains.
Downey, 21, is the youngest of the latest group of State Patrol graduates. Foster says he may be the youngest ever.
"Until recently you had to be 21 in order to become a cadet," he said. That policy has changed, as Downey actually started cadet training when he was 19 years old and just turned 21, the minimum age to be a full-fledged trooper.
Downey hails from Ellensburg and says he wanted to become a State Patrolman because of the work by a trooper he knew.
"I saw what he did and it looked interesting," he said. "I knew I wanted to be an officer."
Getting to be a trooper is difficult, as the training State Patrol cadets undergo can be grueling. Only 4 percent of those who undergo the training actually make it through successfully to become troopers.
"It was tough. It definitely prepares you," says Downey. "Everything's happening at once."
The entire process requires not only physical endurance, but mental testing and months of on-the-job training.
Downey said part of his cadet experience was working at the Governor's mansion, carrying out security details both for the mansion itself and around the whole Capitol campus.
As for his new workplace, Downey said he likes the troopers he works with and enjoys not being all that far from his hometown of Ellensburg. "I prefer being on this side of the mountains," he says.
The same goes for Trooper Andres Martinez of Pasco who, like Downey, feels fortunate to begin his career east of the mountains, relatively close to his home town.
Martinez, 32, brings to his position experience both in security working on the Hanford Reservation and as an Army reservist serving in Kuwait from 2004 to 2005.
The military background is helpful, he says, in understanding the para-military nature of the State Patrol. "For some people not in the military they're not used to the chain of command," he says.
Martinez got immersed right away in the work of a trooper, as he and Trooper Rob Morris represented the State Patrol at the scene of a major collision near Sunnyside last Wednesday.
It was his third day on the job.
In between filling out paperwork from the accident and documenting evidence last week, Martinez said it was "kind of overwhelming at first," to realize he was the trooper on the scene responsible for processing the accident. "You're used to having a coach with you," he smiled. "But then I realized it's neat that people are looking toward me."
Martinez said his ability to be a State trooper and the daily commute between home in Pasco and the Grandview station is only because of his wife and their two daughters.
"I owe a lot to my wife and daughters," he said. "If it wasn't for them I wouldn't be here."
Foster said he's glad to have the new troopers here.
"It's always nice to get brand new troopers," he said. "There's so much enthusiasm, everything's new for them."
Foster said it's also an honor to have the opportunity to influence Martinez and Downey so early in their trooper careers.
"It's a clean slate," he says. "It's always exciting."
Foster said he appreciates Martinez's life experience and Downey's youthfulness.
That young spirit may come in handy when it comes time to provide State Patrol presentations to local schools.
"He's the guy I would look to send to a high school for a presentation," Foster said of Downey, a 2006 high school graduate. Foster smiled and added, "In fact, he might even know some of the kids he's talking to."