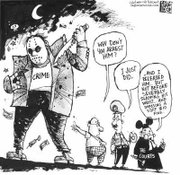 In his first nationally televised press conference this past Monday night, President Barack Obama said Congress needs to take action in passing a stimulus bill. Lack of action, he said, will cause the financial crisis to deepen.
I'm not going to debate the pros aF nd cons of the stimulus package, but I can appreciate Obama's frustration.
I'm frustrated too, in what seems to be almost an annual appearance, the Sunnyside community is again in the mode of holding gang awareness meetings.
I'm about to gag on gang meetings, gang task forces. There typically is a lot of talk and some good ideas, but no measurable action.
Even the centerpiece of our war on gangs, the Choices program, seems to have thrown in the towel. One teacher at Choices has reportedly said that their goal isn't to try and get the kids out of gangs and instead painted a rather flattering picture of gang life.
Sunnyside's Promise, now with the singular promise of keeping safe places, is undergoing a series of meetings to deal with gangs and gang awareness. There's a rotating group of about 20 people who attend the meetings, each operating with their agency or sector of society in mind.
It's time to get beyond meetings and workshops and retreats - one even suggested for defining gang involvement! - and take action. If we don't know what a criminal gang or gang involvement is by now, then we're in even more trouble than I thought.
It's time for action, it's time for prayer, it's time for the church to be the church and fill the void.
I know one church that is doing something along those lines. Church members started a program to reach out to kids on Wednesday night and offer a free supper beforehand.
There was no grant money, no workshops, no think tank, no retreat. With prayer and a joint commitment, a group of church volunteers just put a collective foot forward in faith, then another, then another.
If the outreach works, praise God. If not let's learn from it and move forward. That was the thinking behind the Wednesday night program.
As it turns out, God is blessing beyond all hopes and dreams, with 17 children attending on a regular basis. That includes children from the neighborhood, children who could be at risk in the future without a foundation of faith and love in God.
That's only one church, I know, only one neighborhood.
There are other churches and groups, too, trying extend God to youth instead of gangs. Churches have VBS programs, chili feeds and there are Christian resources for teens through congregations and groups like Young Life.
But what if all our churches could find some way, different ways throughout the year, to connect with children in their neighborhood beyond their immediate church membership?
You see, church, we have one benefit Sunnyside's Promise and other public agencies do not have. We have the ability to openly and often pray to God, to seek His guidance without worrying about what a government grant program would think or what one of 20 or 30 "stakeholders" think.
Obama called on all those with their own agendas to rally behind his stimulus package, to put aside differences.
Again, not going to debate the stimulus, but there's a message for us here in Sunnyside.
To the 20 or so of you who sit around one Sunnyside's Promise gang awareness meeting after another: put your differences aside, your respective agency's agendas aside and take action.
To the churches: Prayerfully find ways to act locally in your neighborhoods. Don't be afraid to take that first step and then another. Remember that God does not give us a spirit of fear or timidity. Learn from your efforts that work and don't work and seek the Lord in all of it.
To all of us: Now is a time of action in getting to youth before they get into gangs.
As Obama said of the economy, lack of action will only deepen our crisis.