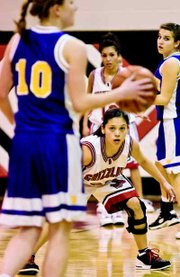 The Wenatchee High School girls basketball team jumped all over the Sunnyside Lady Grizzlies in the opening quarter of last night's basketball game in Sunnyside enroute to posting a 64-45 league victory.
Wenatchee's Dani Hallberg scored eight of her game-high 24 points in the period to pace the Panthers to an 18-3 first quarter lead.
"Our shots weren't falling," Sunnyside Coach Eric Berg said.
Berg said Wenatchee played tough defense in the first quarter and committed several fouls, throwing the Lady Grizzlies off the mark. In the first quarter Sunnyside was just 1-for-6 from the free throw line, however.
In the second quarter Sunnyside managed to bounce back. While the Panthers were still sending the Lady Grizzlies to the line Sunnyside finally started making a few. A tough Sunnyside defense held Hallberg to just four points and Sunnyside outscored Wenatchee 16 to 10 in the quarter to close the Panthers' lead to just nine points.
In the third period the Panthers regrouped behind the play of Michaela George and Hallberg. George scored six points for Wenatchee in the third and Hallberg added five points.
Sunnyside started having trouble hitting its field goals again to start the second half, but wassaved at the free throw line where the Lady Grizzlies went 5-for-10.
Wenatchee extended its lead to 19 points to start the final period and although Sunnyside made a run at it, they couldn't keep Wenatchee from matching them every step of the way.
A bright spot for Sunnyside was its free throw shooting. The Lady Grizzlies were 18-of-30 from the charity stripe. The Panthers were 2-for-8.
Besides the 24 points Hallberg put in, the Panthers benefited from the play of Amy Scheuman with 12 points and George added 10 for Wenatchee.
Sunnyside was led by Katie Wutzke and Sarasa Partida with 10 points each. Destiny Maya had eight points and Megan Tyler added seven.
"Everyone contributed for us," Berg said. "We had some younger players that saw more playing time than they have all season."
Sunnyside (1-11, 2-16) will travel to Yakima this Friday, Feb. 13, to play the West Valley Rams at 5:45 p.m.