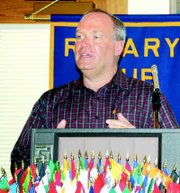 Sunnyside Community Hospital employee and Daybreak Rotary Club member Tom Lathen, as well as Ellensburg Rotary Club member Scott Rollins, will be traveling to China next month to take part in Rotary's newest Rotaplast mission.
"Rotaplast is cleft palate and lip surgery," explained Lathen at Monday's Rotary meeting in Sunnyside.
He said he has not been involved in a mission like the one to China for approximately four years, but last year he was asked to speak to his church about the missions he has been on. "That got me excited and a little nostalgic," he commented.
Shortly after providing his church members with insight about the missions, Lathen received a series of phone calls from Rollins. He continuously told Rollins he did not want to venture out on another mission, but Rollins was persistent.
Finally, Lathen spoke with his wife and committed the request to prayer.
Rollins, who also addressed local Rotarians on Monday, said Rotaplast missions are life-changing. They not only transform the lives of the children who benefit from surgery, but the lives of those serving the children are changed also.
He said his first trip required $40,000 in funding, but the trip to China is more expensive. Funds needed amount to $130,000 and all but nearly $10,000 has been raised.
The first mission Rollins became involved with was to Cochabamba, Bolivia. He met Lathen on that trip. Funding for the trip was provided by Rotary International District 5060, the district serving Sunnyside, Grandview, Ellensburg and surrounding areas.
The pair met in Florida before flying to Bolivia. Rollins said the Rotarians in that country are members of the upper class and the accommodations were in an estate. The children being served were of the lower class and lined up with whole families to receive medical care from the Rotarians.
"Casa de Rotaria contained a basketball court," said Rollins, stating the medical teams treated children on the basketball court. The Rotarians also played with the children and learned a lot from the Bolivians.
"There is a stigma and many myths surrounding children who are born with a cleft lip or palate," Rollins said, explaining that the surgery eliminated problems for those children.
He has been on 10 trips to date and seen more than 1,000 children's lives changed as a result of Rotary's efforts to provide surgery for cleft lips and palates.
Rollins said the quality of life provided to youngsters as a result of the trips is worth the monetary cost, and because nearly $10,000 is still needed, he told those at the Noon Rotary Club meeting donations are still being accepted.
Those wishing to donate can do so by sending pledges to Rotoplast, 400 N. Pearl, Ellensburg, WA 98926.