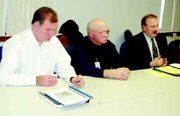 The time for studies is over, the time for action is now," Sunnyside City Manger Eric Swansen said yesterday of going after criminal gangs and drug abuse in the Sunnyside community.
Swansen's comment came during a press conference on Wednesday of an executive committee that has formed to fund a plan of action against gangs and drugs, believing the two issues are intertwined.
Swansen represents the city on the committee, which also includes representatives from Sunnyside Community Hospital and the Sunnyside School District.
Sunnyside School Superintendent Dr. Rick Cole said a catalyst for the committee forming this past October was because it was the time that both the city and school district were scheduled to each give $15,000 to Sunnyside's Promise for its programs.
Cole said that the school board wanted to fund a program that focused on gangs and drug problems among youth. He added there weren't "two pots of money" to fund both that effort and still make the contribution to Sunnyside's Promise.
Rather than give the money to Sunnyside's Promise as usual, the city, school and hospital are asking the agency to propose a plan of action to tackle the two issues and present its proposal to the committee next Tuesday. As a result, Sunnyside's Promise is being asked to focus on just one of its five promises - safe places.
"It's hard to describe how urgent we feel about this," said Cole. When asked for how soon the district, city and hospital want to proceed with a plan, Cole smiled and said, "Yesterday."
Sunnyside's Promise is getting first shot at delivering an action proposal. If the committee likes what it hears, then the hospital, city and school district will each contribute $15,000 to the effort.
Swansen cautioned the money would have strings attached; mainly that Sunnyside's Promise would have to produce visible results in its proposed action against drugs and gangs.
Cole said the amount is just a start and that more will likely be needed in the future, possibly coming from federal grant money.
It is possible Sunnyside's Promise's plan may be turned down. In that case, Cole said the committee would look elsewhere, perhaps to another agency or announce a request for proposals from interested groups.
Sunnyside Police Chief Ed Radder is the board chair for Sunnyside's Promise. If the group doesn't receive the funds to proceed forward he said it would be a "board decision" as to the future of Sunnyside's Promise.
Sunnyside Community Hospital CEO Jon Smiley said the committee may reach a decision one way or another immediately following the Sunnyside's Promise presentation next Tuesday.
Sunnyside Community Hospital, which has helped fund some Sunnyside's Promise activities in the past, was praised by both Swansen and Cole for its desire to help with the focus against gangs and drugs.
Sunnyside Mayor Paul Garcia attended yesterday's press conference and he said that citizens are ready to see action against the problems of gangs and drugs.
Radder noted that trials of gang-related suspects are moving faster than in the past, with longer sentences being issued. He says it's a sign the court system has had its fill of these issues, too.
Swansen said Sunnyside residents feel the same way.
"I think the community will support this," he said of the city, school district and hospital tackling the issues. "It expects us to do this work."
More like this story