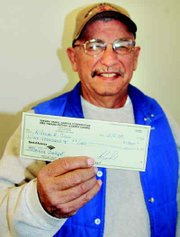 TOPPENISH - Sticking with his lucky number proved a wise decision for Fred Cruz of Sunnyside, who last week won a $12,000 jackpot at Legends Casino.
Cruz was playing a game appropriately called the Money Bank, in which players place numbers on a digital board in hopes of getting a match with the computer.
Cruz, 72, knew exactly what number to play. "Fifty is my lucky number," he said. "I put 50 on all four corners and won the jackpot."
After funds were withheld for taxes, Cruz cleared a $9,000 check.
He was obviously pleased with his haul, especially considering his small investment of an $8.50 bet on the game.
Just as he was decisive about what number to play to begin with, the retired Hanford maintenance worker is equally decisive about what he's going to do with his winnings.
"Our 50th wedding anniversary is this year and the kids are sending us on a family trip to the Virgin Islands," he smiled. "This," he said pointing to the check, "will help a lot."
J