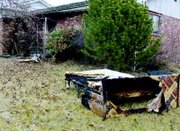 Sunnyside firefighters battled a house blaze in the 1000 block of Rossier Street in Sunnyside this past Tuesday that sent the occupant to the hospital.
Sunnyside Fire Chief Aaron Markham said 17 firefighters, two command vehicles, two engines, one ambulance and a support unit responded to the fire at 10:28 p.m.
Only one occupant, a male, was inside the house at the time of the fire.
Markham said initial evidence leads fire officials to believe the fire started when the man fell asleep while smoking a cigarette, which eventually ignited a small hide-away bed.
The victim suffered burns to his body and was transported that night to Yakima Regional Hospital. On Wednesday he was transported to Harborview Medical Center in Seattle.
Markham said the fire was extinguished fairly quickly, within 30 minutes, but firefighters were at the scene for nearly two hours making sure everything was extinguished.
It is estimated that the building and its contents sustained $40,000 in damage.
Also since last Monday Sunnyside firefighters have answered eight calls for aid, transporting four patients to the hospital. Firefighters also provided seven transfers.