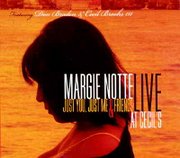 I can't thank my editor enough for tossing Margie Notte's "Just You, Just Me & Friends-Live at Cecil's" CD on my desk to review.
This is an absolute must have CD for any music lover who appreciates a rich, sultry and undiluted beautiful voice like Notte's.
I say undiluted because the CD was recorded live at Cecil's Jazz Club in West New Jersey this past spring.
I never would've stumbled across this CD. I am not a jazz lover and the only time jazz music enters into my mind is when I'm thinking about enriching music for my 13-year-old, who's in his third year of middle school band.
Because of the band enrichment, my son not only loves the usual music teens adore, like alternative rock, but he's also got a sincere appreciation for music like this, especially live.
Notte's got the kind of voice I used to dream about having when I was a little girl, hitting all the right notes. But my favorite is when it drops to that soulful, sexy deep voice.
The CD features the heartfelt "Cry Me a River."
Notte's "Loverman" makes me want to grab my partner and just start dancing.
I wish I had another jazz female performer to compare her to so you jazz enthusiasts would get an idea of what Notte sounds like.
I could go on and on. But on this, you need to trust me: if you're looking to expand your musical horizons and add jazz to your repotoire, add Notte's CD to your library.
And if you're a jazz lover and you've never heard of her, don't hesitate to order this CD. Visit her website at www.margienotte.com.
It goes without saying that this CD is going home with me.
More like this story