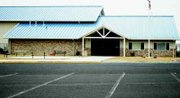 With the closure of the Sunnyside Community Center last year, recreation programs were eliminated.
A group of educators, parents and community members concerned about this issue formed a steering committee last October to discuss the void left by the center's closure.
Angel Carrizales, a math coach for Sunnyside's middle schools, is a member of that steering committee and said the city publicized a request for proposals from groups or organizations interested in operating the community center.
"That request wasn't specific about how the city might assist those seeking to operate the center," said Carrizales.
She said the group has dwindled over the months, but members are interested in seeking ways to partner with other organizations. Because of this, the committee has invited City Manager Eric Swansen to attend its Feb. 25 meeting at Harrison Middle School.
"With so many unanswered questions regarding city assistance, we want to further explore our options," Carrizales stated, explaining the steering committee will be asking Swansen to re-open the request for proposals. The committee wants more specific information regarding the city's willingness to assist in operating the community center to be included in that request.
"The community center is a disservice to the community as long as it is closed," noted Carrizales, stating spring break will be upon the community soon and the community's youth need activities during that time.
She has spoken with Lisa Fairbairn of Sunnyside's Promise, who informed her there are a number of organizations in Sunnyside looking to develop partnerships for the purpose of overseeing operations of the community center. "But, there isn't a lot of information on how to develop those partnerships," said Carrizales.
She said the steering committee believes the community should come together to provide opportunities for its youngsters, including providing a safe venue during spring and summer breaks for recreation programs.
Currently the group is exploring whether or not it is feasible to re-open the community center and has not yet taken steps toward the development of activities.
"We need to see what partnership options are available," Carrizales said.
The Feb. 25 meeting is scheduled from 10 to 10:45 a.m. Community members or organizations interested in helping the steering committee with its efforts can contact Carrizales at 836-8500 or Sunnyside's Promise at 836-8417 or email lfairbairn@sunnyside.wednet.edu.