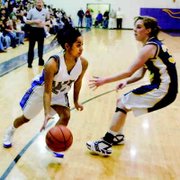 MABTON - The last four minutes of play in last night's Mabton basketball game against Naches could, at best, be described as harrowing. Ultimately, the Lady Vikes won the game from the free throw line, 62-56.
Down by seven points late in the fourth quarter, Lady Vike Kayla Cambpell hit a three-pointer from outside the key.
"That was a big shot for us," Mabton Coach Chris McCallum said.
Shortly thereafter, Mabton's Trishi Williams, who scored a game-high 27 points, fouled out. As McCallum was mulling his next move, he was wrongly penalized for taking more than 60 seconds.
This sparked the Lady Vikes into action. "My girls got fired up, the crowd got fired up," McCallum said.
As soon as Naches had the ball, Mabton promptly stole it and made a lay in, putting the Lady Vikes at this point down by two.
Maybe it was the fact that it was senior night and a packed house, which apparently rattled the Naches Rangers.
Naches fouled Mabton's Melissa Gutierrez, who dropped in two points from the free throw line. That became a pattern, with Gutierrez scoring four more points from the free throw line. It was a foul against Mabton's Crysta Reynolds, who shot two more points from the free throw line, that ended the game.
Mabton's next game will be at home next Tuesday against Riverview. That contest will be the District tourney opener for the Lady Vikings (9-3, 16-4), who finished tied for runner-up honors in SCAC West play this season.