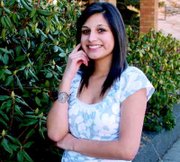 Sunnyside High School junior Blanca Macias has thrown her hat in the ring for Sunnyside's Miss Cinco de Mayo crown.
Macias, 17, said she is motivated to be a part of the 2009-10 court as a way to encourage other girls.
"When you're on the Cinco De Mayo court you become a role model for younger girls," she said. "I want to set an example before I leave for college."
Macias added, "They (Cinco de Mayo court members) are always out helping and doing community service."
If selected to the court, she says as a role model her goal would be to "encourage girls to do well in school and stay out of drugs and gangs."
The daughter of Maria and Jose Macias, she says her focus if named Miss Cinco de Mayo would be helping the Children's Network. "I want to raise funds for cancer patients," she says.
Macias has seen firsthand the benefits to children when they receive medical attention.
"My sister's friend had cancer. I saw him during chemotherapy and he wouldn't have survived if he didn't have treatment."
The oldest of four children - all of her siblings are boys - Macias is active at Sunnyside High School. Her activities have included track, student council and softball. Macias also enjoys dancing.
Macias enjoys dancing so much that she said her presentation during the talent portion of the Miss Cinco de Mayo Pageant will be a dance.
When not in school, Macias, who carries a 2.7 GPA, also keeps busy helping her mom in running a day care.
After high school, Macias plans to become a dental hygienist and attend either WSU or Eastern Washington University.
"I like helping out the dentist," she said, noting her future plans include doing a job shadow with a dental clinic in Sunnyside.
Among the attributes that Macias says help her both in school and beyond is that she is friendly, responsible and "I get my things done on time."
One of her favorite subjects at Sunnyside High School is U.S. history. "It's interesting to see how the U.S. came into being."
Macias says the hard work and dedication it takes to succeed in the classroom, and the effort required to be a Miss Cinco de Mayo candidate is something she learned from her parents.
"They never give up and even when things look bad they look on the bright side," she said.