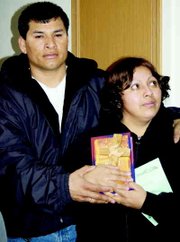 GRANGER - Always remember anything is possible.
That's the mantra of Granger's Armenta family, who were given the keys yesterday, Sunday, to the first home they've ever owned, thanks to Habitat for Humanity.
And it's an event that almost didn't happen.
The Armenta family, which includes husband and wife Pedro and Lourdes, and children Carina, 17, Cassie 13, Pedro Daniel, 9, Joel, 8, and Mateo, eight months, had been told long ago that they didn't qualify for the Habitat for Humanity home.
That didn't stop the family, notably Pedro, from praying to God to have a shot at owning the home, located at 308 E. Third Street.
Pedro hails from humble beginnings. Abandoned to the streets of Mexico at age nine, Pedro learned to fend for himself. At age 11, his grandparents took him in and by the age of 15, other members of his family who had been living in the United States sent for him. Pedro went to school and got a job.
By the time he was 19-years-old, Pedro met Lourdes while they were both working in a warehouse. When asked through interpreter Guillermo Martinez, the pastor of their church, if it was love at first sight, Pedro answered with a laugh in the affirmative.
The couple married and started their family, but with a firm passion for giving the kids a better upbringing than what they'd experienced.
"They way they lived their lives as children-they wanted their children to have more than what they had," Martinez explained for the Armentas.
Not only does this include a deeply rooted faith in God, but an everlasting hope that anything is possible.
The family, living in a cramped two-bedroom trailer in Granger, never gave up hope on the Habitat for Humanity home.
"He would drive by the house, praying," explained Martinez. "He promised God he would leave it in his hands."
Halfway through the construction of the home, the family originally selected backed out.
It was then that the Armentas learned they qualified, Martinez said for the family. When asked what the difference was, Martinez, interpreting for Pedro, said, "He doesn't understand. (To him) it was something that God did."
The family moves into the home today, Monday.
When asked if there was anything he wanted to add, Mr. Armenta said through the interpreter that he feels extremely blessed that Habitat for Humanity worked as the Lord's instrument.