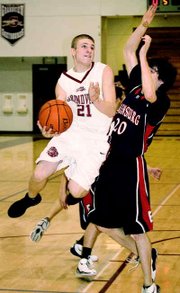 GRANDVIEW - The Grandview boys basketball team split this past weekend's games at home, beating the Ellensburg Bulldogs 52-50 on Friday night but losing to the Selah Vikings 78-53 on Saturday.
On Friday, the Greyhounds were led by Eric Rodriguez with 16 points as Grandview edged the Bulldogs. Chris Hernandez finished with 12 points and six rebounds for Grandview, and teammates Christian Schrank and Adrian Reyes each had nine points. Schrank also had 11 rebounds. No other details were available from Friday's game.
On Saturday, poor shooting from the floor hampered the Greyhounds' efforts to beat the Vikings.
The first half was close as Selah led Grandview 20-17 after one quarter and then 33-27 at halftime. What hurt the Greyhounds in the first half was poor shooting from the three-point line. Grandview was just 2-for-13 in the first half from behind the arc and shot just 31 percent from the field.
It was good enough to stay close though, as Selah didn't shoot much better. That was until the second half.
The Vikings were 17-for-34 from the field in the third and fourth quarters, where as Grandview was just 10-for-44.
This helped Selah outscore the Greyhounds 26-12 in the third quarter to put the Vikings up by 20 points to begin the fourth period.
In the second half Grandview continued to have problems from behind the three-point arc, going 4-for-18.
Grandview was led by Hernandez with 13 points. Eric Rodriguez followed with 12 points and five rebounds, and Joseph Babcock added 10 points and pulled down a game-high 14 rebounds.
Ricky Escalera had 16 points for the Vikings. He was followed by Brett Dodeward with 14. Drew Washut pulled down 13 rebounds for Selah.
Grandview (11-5, 12-6) will play Prosser High School this Tuesday, Feb. 17, at 7:30 p.m. in Prosser.