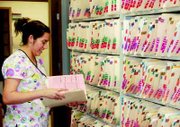 She doesn't have her college degree or certificate yet, but Dolores Gomez is a woman of letters.
Literally.
Gomez is a medical records, or file, clerk for Mid-Valley Community Clinic, near Sunnyside Community Hospital. Her job requires her to file medical paperwork in files arranged in alphabetical order, based on the first two letters of the patient's last name.
Gomez says she didn't have previous experience or training in medical records. The main requirements to get in the field are being organized and paying attention to detail.
There's no shortage of filing to be done, as every time physicians see a patient at the clinic, or pull a file, the paperwork and its corresponding file have be put back in place precisely.
Gomez also files dictation and keeps lab charts up to day for patients and doctors at the clinic.
Other times, as requested, she'll deliver the files personally to nurses or physicians.
The best part of her job, said Gomez, is her co-workers. "I like the people I work with and working with the public," she says.
Gomez said it's also a fast-paced job that keeps her on her feet most of the day. "There's a lot of standing," she smiles.
Besides tending to and organizing patient files, Gomez also periodically helps with purging old files. She says that's done once a year.
Gomez says one of the best things about working for the Mid-Valley Community Clinic is flexibility.
"I have a daughter and I'm going to school," she said. "They're really good about being flexible with my scheduling."
Gomez will mark her first year on the job this April and her filing clerk position at Mid-Valley looks to be just the first step in a career in the medical field.
That schooling she refers to is preparation for work in the medical profession. She says she's either going to study to be an ultrasonagrapher in support of an obstetrician or a radiology technician.