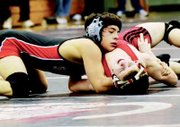 The Sunnyside High School wrestling team qualified eight wrestlers for the state tournament this coming weekend and will send one grappler as an alternate.
At the Regional tournament held in Sunnyside this past weekend the Grizzlies took third place honors, behind East Valley High School of Spokane and Sedro Woolley.
Earning championships for the Grizzlies were Steven Romero (112 lbs.) and Baltazar Avalos (140 lbs.)
Romero pushed his season record to 37-0 as he went 3-0 on Saturday. Romero beat Glacier Peak High School's Paul Kim by pin in 1:11 in his first match of the day. He then pinned North Central High School's Jared Berlinger in 3:20. Romero then beat Nathan Brown of North Central 6-0 for the championship.
"He beat him (Brown) last week 6-4," Sunnyside Coach George Paulus said. "So he opened it up a bit this time."
Avalos has put on quite a run in the postseason. He went 3-0 on the day to earn a Regional championship.
Avalos beat Nick Sage of Glacier Peak 6-4 to start things out on Saturday. He then defeated Byer Barmore of Ferndale High School, 6-0. In the finals he defeated Sedro Woolley's John Janicki 5-3 in overtime.
"That was a great match," Paulus said.
Earning second place finishes for the Grizzlies were Christian Reyes (103 lbs.) and Shawn Olivarez (135 lbs.)
Reyes started his day by pinning Buck Johnson of Sedro Woolley in 1:11. He then blanked teammate Nathan Gonzalez 5-0 to set up a finals match with Nick Sweeney of East Valley High School. At last week's Sub-regional tournament Reyes won 4-0 but this time Sweeney got the best of Reyes, 5-3, in an overtime match.
"They should meet in the finals at State," Paulus predicted.
Olivarez edged Stephen Takashima of Lynnwood High School 9-7 in overtime to open up his tournament. He then squeaked by Sean Biltoft of East Valley 2-1 in double overtime before losing to Shane Hunt of Sedro Woolley by pin in 1:07.
Earning third place finishes for the Grizzlies were Nick Martinez (130 lbs.) and David Huizar (160 lbs.).
Martinez lost to Levi Koetje of Mt. Vernon High School by pin in 4:33 to begin the tournament but then strung together three wins to earn third place honors. He beat Ferndale's Kody Liles 7-4 in his final match.
Huizar lost his second match of the day, a 7-1 decision to Ferndale's Tristian Greig, before coming back to beat Connor Johnson of Mt. Vernon, 4-3, to take third place.
Sunnyside's Gonzalez bounced back after his loss to Reyes to go 3-1 and earn a fourth place finish. Leroy Rodelo (145 lbs.) placed fifth and will travel to State as an alternate.
Placing at the Regional tournament for Sunnyside but not making it to State were Isidro Ramirez (125 lbs.) and Adam Peters (285 lbs.). Both wrestlers placed sixth.
At Moses Lake last Saturday, Sunnyside's Amber Rodriguez (140 lbs.) finished in second place with a 2-1 record at Regionals. She beat Mary Walker High School's Adrenne Anderson 8-1 to earn a trip to the State tournament. Rodriguez is the first female from Sunnyside to earn a spot at State.
"It was a pretty good day," Paulus said. "I was tickled. We'll have nine kids representing us, that's pretty good.