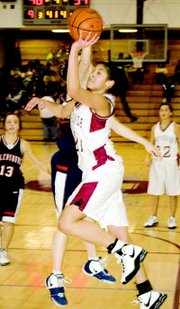 GRANDVIEW - The Grandview High School Lady Greyhounds hosted Ellensburg and Selah this past Friday and Saturday, coming away with a 60-52 loss to the Bulldogs and a 64-43 win over the Vikings.
Friday, the Lady 'Hounds got off to a slow start against Ellensburg and had trouble shutting down Deaira Gordon, who garnered 18 points for the Bulldogs.
Gordon sunk three of her four three-point shots in the first quarter of the game to lead her team from the start.
Grandview's Kinzi Poteet, Doris Lupercio and Jessica Lopez all did their best to defend against the Bulldogs, getting 13, seven and five boards, respectively on the night.
Poteet was the leading scorer for the Lady 'Hounds with 24 points and Lopez tossed in another 22 points.
Grandview Coach Paul Van Pelt said, "We only committed 15 turnovers, so we took care of the ball much better."
Lopez forced four turnovers on the night and stole the ball five times.
"We just have to put together four quarters," commented Van Pelt.
Saturday, the Lady 'Hounds fared better against Selah. "We knew Selah was going to come into the game confident having picked up their first league win against Toppenish," said Van Pelt, explaining his team clamped down on the Vikings from the start of the game.
Poteet scored a career best 35 points against the Vikings and teammate Meghan Smasne picked up her game, scoring 15 points against Selah "...her best game of the season."
Van Pelt said the victory is credited to teamwork. A total of 11 assists were recorded on the night, with four of them being from Poteet and three from Gio Gomez.
"They (Grandview) really worked on the boards in this game," Van Pelt said.
Poteet snatched 17 balls from the glass and Lupercio had nine rebounds.
"I am very proud of the way they played," Van Pelt commented.
The Lady Greyhounds (4-12, 5-13) will play at Prosser this coming Friday and will host Toppenish Saturday to end the regular season.