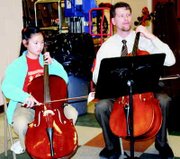 OUTLOOK - The concept of learning alongside one's child is not a new one, but it is proving advantageous at Outlook Elementary School.
Last Thursday night parents of fourth grade students at the school were provided a night of learning opportunities through the school's "Partners in Learning" program.
The program was the idea of fourth grade teacher Peggy LaPierre, according to Sister Mary Rita Rohde.
Rohde wrote the grant for the program during the 2007-08 school year, with the idea in mind that fourth grade parents would be willing to sit with students and learn what is happening in the classroom if provided a meal beforehand. She said the funding afforded seven nights of gathering families for the purpose of teaching parents what was being taught in the classroom last year.
"Because we were frugal with the funding, we are able to provide five nights this year," she said.
Rohde said approximately half of the school's fourth graders attend the event with their family members, but the parents are eager to learn and she has had one parent attend when the child was unable to do so.
"We also have childcare available for the younger siblings of the students," she noted, explaining it is important to ensure parents and students attend.
The program also provides Spanish-speaking translators to accommodate those who do not speak English.
LaPierre said the program also provides a sense of rapport with parents. She said staff members and parents develop close relationships and the students respond within the classroom. "They seem to know the parents and teachers will talk with one another and they (the students) try harder," she said.
She said the meal provided before parents go to the classroom with the students is another way to open doors. Sharing a meal is important in many cultures and bonds are more easily created in a comfortable environment, according to LaPierre.
"It helps people open up to one another and the parents see our administrators in a different way," she said, noting the fact that the school's principal, Robert Bowman, provided music during Thursday evening's event.
As a result of the bonds created through the program, LaPierre said she feels the students, parents and staff members at Outlook Elementary School become an extended family "...extending the support for the students."
The parents are eager to learn the strategies in math, practice writing skills and experience what the students are learning in class. "It opens doors to learning for the parents," LaPierre noted, explaining many parents aren't familiar with the curriculum until they take part in the "Partners in Learning" nights.
She said the parents aren't told what the students are learning...they participate in the process through practicing techniques being taught.
In addition, LaPierre said parents are provided with tips for parenting.
She said the events are just one more avenue to providing students with improved learning skills.