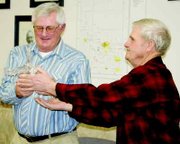 An abundance of people slowly but surely began to fill the Sunnyside Port commissioners meeting room last night, Monday, during a regularly scheduled meeting. It wasn't until Port Commissioner Arnold Martin eyed his two sons that the thought hit him this might just have something to do with him.
Indeed it did. Martin celebrates 20 years of service as a commissioner this month and port officials were pleased to recognize him with a crystal eagle and a card.
"I know I've been here for quite a while, but I wasn't sure it had been quite that long," Martin said.
Commissioner St. Clair Woodworth explained some changes in the port since Martin came on board in 1989, notably the annual operating budget which, 20 years ago, was $300,000. Today, it's at $3.5 million.
Martin said one draw to his job is what the port contributes to the community, even the Lower Valley as a whole.
"The Port of Sunnyside has always been community-minded," he said. "We have used more of our abilities to work with the city, the school district, the Sunnyside hospital, Chamber of Commerce and YCDA for the continued growth of the Lower Yakima Valley."
He added, "I believe we have a responsibility to help our community grow and become a better place. As one of the commissioners, I have been able to be an important part of economic growth for companies that were already here and for companies coming here.
"Sustainable job creation and continued growth of our community is something that I really want to be a part of."
What's interesting is that Martin's ideology of what a port commissioner's duties are hasn't changed since he was interviewed by the Daily Sun News in 1989 prior to being elected.
"For a community to grow and prosper," he said 20 years ago, "its members need to be actively involved in supporting the community and in making decisions that influence growth."
Among the port's crowning achievements the past 20 years, Martin includes the expansion of the port's wastewater treatment plant and keeping it viable and sustainable so that its industrial users can stay in business, keeping jobs in the community.
When asked what he anticipates the crowning achievements of the port will be in 20 years, he responded, "Working in conjunction with the city of Sunnyside on our separate but common goal of expansion of the Sunnyside Airport, (as well as) the full development of the East Edison business park..."
In addition to serving as a port commissioner, Martin, a farmer, has been active on the Federal Spearmint Marketing Order, the Washington State Commission, Mint Industry Research Council, active in his church and, of course, raising his family.
Martin feels that being able to serve Sunnyside via his post as port commissioner is, simply put, "a privilege.