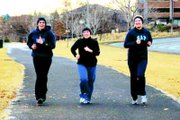 There can be nothing more frustrating and devastating than hearing the news of a friend or family member who contracted some form of cancer.
The feeling of helplessness as friends or family members waste away, experiencing more pain than anyone should have to, can be trying for anyone.
But for the last 20 years the Leukemia and Lymphoma Society has been helping people empower themselves to help fight for their loved ones.
The Leukemia and Lymphoma Society dates back to 1949 when a family struck by the death of cancer formed the group to help cure leukemia, lymphoma, Hodgkin's disease and myeloma. The society also wanted to help improve the quality of life of patients and their families.
In 1988 the society started Team in Training, a program that trains people to run marathons, half-marathons, triathlons, and bike and hiking adventures, all to help raise money to fight leukemia and lymphoma.
The Team in Training program has groups all over the United States helping wage the fight against cancer and now there is a group in Yakima County, as well.
The ball got rolling on the Yakima County group when Sunnyside City Manager Eric Swansen came to town last year and inquired about it.
He has been involved with the Leukemia and Lymphoma Society ever since his father passed away from complications relating to lymphoma. When he returned home after the funeral he found he had received a postcard in the mail detailing what Team in Training is.
"I wanted to do something in memory of my dad," he recalled.
Swansen said he also had neighbors in the area who had been affected by this disease and that compelled him to get involved. He ran his first marathon in 2006 and has been going strong ever since. In 2008 he became a Team in Training coach.
When Swansen moved to Sunnyside in 2008 he contacted the Washington/Alaska chapter of the Leukemia and Lymphoma Society and was told there wasn't a group in Yakima County and that the society has always been looking to get one started in this area.
So Swansen set to work forming the Awesome Yakima Team in Training group at the beginning of this year. From the Tri-Cities to Ellensburg, Swansen was able to attract 51 members, including Annie Cowan, who is new to Sunnyside.
Cowan has also been affected by leukemia and lymphoma, having known a co-worker who was affected.
Cowan has other reasons as well.
"This is a chance to get more fit and make a difference," she said. "That's what I like. I like making a difference. That's why I work for the Red Cross."
The interesting thing about Team in Training is that the program takes people who aren't normally athletes and turns them into marathon runners. That's where Swansen comes in.
The group meets twice a week for training sessions in Yakima and then each individual does more training on their own. Swansen said the team training sessions are spent doing stretching exercises.
"And then we laugh," he joked.
After the laughter is finished the group spends time talking about leukemia and lymphoma and why the group is there. Tips on nutrition are discussed and then the workout begins. This usually means a run of an hour or even more.
The group members are all different in terms of running ability and some finish sooner than others. The ones that finish first then turn around and form a gauntlet where the other runners are cheered on. It's something that helps, according to Cowan.
"It's great," she said. "Sometimes that last block takes forever but when you know someone's at the end, it makes a difference."
She added that doing the training with other people, with some form of structure, helps. In the three weeks she's been training Cowan said her knowledge and confidence has increased.
"Eighty percent of running a marathon is mental," Swansen said. "Twenty percent is physical."
It's also something that will be emotional. Swansen remembered his first marathon he ran in Florida.
"Lining up it really dawned on me," he said. "I said this one is for you, dad."
Cowan is planning on running in the Rock'n'Roll Marathon in San Diego, Calif. at the end of May. Her goal is to raise $5,000 before the race by soliciting donations from merchants and individuals.
To help Cowan reach her goal she can be reached at 509-439-1962. People can also visit http://pages.teamintraining.org/wa/rnrseat109/pcowanase1 to donate money.
Swansen said if the 51 members of the group reach their goal for donations, a total of $135,000 could be raised from the Awesome Yakima Team in Training group.
"Maybe that's the money that gets the next cure," he said.