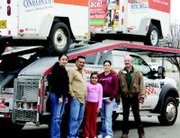 Sunnyside's Chevron has added U-Haul to its already expanding list of services.
According to U-Haul Area Field Manager Joseph Zilar, the previous U-Haul dealership in Sunnyside halted the service last June and those needing to move were traveling anywhere from Grandview to Toppenish to rent a unit. "That's quite a ways to go for someone to get (a vehicle) to help move," Zilar said.
This past summer, the Sunnyside Chevron Cash Mart opened up, paving the way for locals to cash checks and get payday loans. Now it's also a drop off point for paying bills to 200 companies, including Dell, Circuit City, IKEA, Furniture Row, Gap, Macy's, Sears, Target and Kawasaki. The Cash Mart also provides Western Union Services.
"We like to provide every kind of service here," said owner A.J. Hothi. "A one-stop shop."
The Sunnyside Chevron Cash Mart has also added 60 post office boxes, which Hothi said should be available for rental in the near future.
Hothi noted that the Chevron, which is located on South First Street, had been closed for a year. When the decision was made to open it back up, Hothi wanted to add as many services as possible to the plaza.
"There's even a coffee shop on the corner," said Hothi.
He said work is currently underway to upgrade the fuel pumps, too, so that they will accept credit cards at the pumps.
While the Chevron station is open 24 hours a day, the Cash Mart is open Mondays through Saturdays from 9 a.m. to 5 p.m.