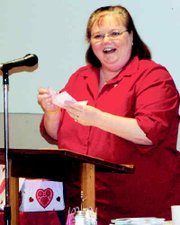 PROSSER - With a theme focused on love and the heart in light of the fact that Feb. 14 was just this past Saturday and that February is heart health month, Lower Valley Christian Women's Club members learned the true solution to problems of the heart.
The club met this past Monday at the Barn Restaurant in Prosser during a luncheon that included music, also focused on the heart.
The featured speaker was Rebecca Hunt, whose family owns an orchard in the Yakima Valley. She said while it's important to take care of the physical heart, spiritually it's also vital to pay attention to where our heart is.
"What do we fill our hearts with?" she asked the luncheon audience.
Hunt noted that for her the favorite things of her heart include her family and the 2,000 trees in their orchard.
"I talk to the trees," she smiled. "I tell the buds to hang in there when it's freezing."
She said the strategy worked last year, she laughed, noting that her family's cherry harvest weathered difficult weather conditions.
But the focus of her lesson was to encourage those at the luncheon to make room in their hearts for Jesus first.
She illustrated her point by distributing puzzles to everyone in the shape of a heart. As the audience soon learned, the puzzle was incomplete as there was a hole in the middle of the heart.
"We can't live without a complete heart," Hunt said. "God tells us that, 'I have loved you with an everlasting love'."
She says its Jesus who makes it possible for us to experience God's love. "Our hearts are not complete without Jesus," she said. "We can't reach God's grace without Jesus."
To bring the point home, she distributed the missing piece of the heart puzzle - Jesus.
"If you don't invite Jesus into your heart, you have a hole in your heart," Hunt said. "Only He can fill your heart with the greatest love and joy you'll ever know.