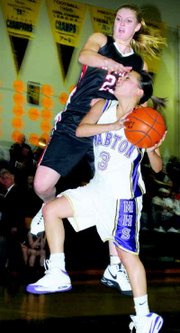 MABTON - The Mabton High School girls basketball team overcame a slow first quarter to beat the visiting Riverview Panthers last night in opening District tournament play, 60-56.
Mabton Coach Chris McCallum said the game of basketball is a game of runs and this one fit the billing to the tee. The Panthers used a 13-9 run to open the first quarter and surprise the Vikings.
"They came out in the first quarter and just worked us," he said. "They were out-hustling and outrebounding us and just kicked our butts."
Hampering the Vikings was three players that got in foul trouble early in the game and had to ride the bench until midway through the second quarter.
"We had a talk with the girls and they responded in the second quarter," McCallum added.
The Lady Vikings picked up their intensity and went on a run of their own. Mabton outscored the Panthers 22-16 in the second quarter to take a two-point lead at halftime.
"I wasn't happy with the way we were playing but I was happy with the lead since we were out-worked in the first half," he added.
Mabton slowly built up an 11-point lead in the third quarter and midway through the fourth until Riverview decided to make things interesting. The Panthers went on a 15-3 run and took a two-point lead on a Tate Bailey three-point shot with a couple of minutes to play.
The Lady Vikings responded though, fighting back to tie the game, and then Mabton's Trishi Williams hit a two point shot to re-take the lead. After stopping the Panthers on the next possession, Ana Jimenez was fouled and calmly sank two free-throws to give Mabton a four-point cushion.
The Lady Vikes then used its defense to hold the Panthers scoreless in the final minute of play to pull out the win.
Mabton (17-4) will now play Connell this Friday, Feb. 20, at 6:30 p.m. at Zillah Middle School.
"We have to pick up our intensity and our hustle," McCallum said of Friday's game.
Last night Mabton was led by Williams with 16 points. Melissa Gutierrez had 12 points for the Vikings and she was followed by Jimenez with 10 points. Brisi Enriquez had six points and Jazzee Sustaita and Kayla Campbell each finished with five points.
Bailey led the Panthers with 15 points, Kim Gier had 13 points, Lexie Hess finished with 12 points and Becky Flores had nine points.