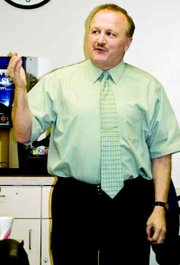 Sunnyside School District Superintendent Rick Cole was on hand this morning, Wednesday, to detail the ins and outs of a March school bond that, if passed, will prompt construction at the high school and $35 million in matching funds from the state.
Cole said that the tax rate is $1.26 and Sunnyside taxpayers will pay that rate regardless of whether or not voters say yes to the bond. The difference is the state will give the district the $35 million in matching monies if voters approve the bond.
"If you vote yes, it's $1.26. If you vote no, it's $1.26," Cole said.
If approved, the money will be used to modernize and expand Sunnyside High School, and also to construct a cafeteria/multi-purpose room at Sun Valley Elementary School.
Cole noted that the projects will generate $530,000 in sales tax for the city of Sunnyside and $2.5 million in tax monies for the state.
And, Cole added, "This is a replacement bond with no tax increase."
Cole said ballots for the $11.4 million bond will be mailed out this Friday.