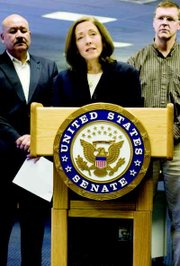 YAKIMA - Sen. Maria Cantwell (D-WA) is on a press campaign across the state, explaining ways in which the "American Recovery and Reinvestment Act" will benefit citizens of Washington.
Yesterday, she made a stop at Yakima's Worksource and spoke of the $2.25 billion in tax credits included in the bill to allow financing of low-income housing construction.
The number of homeless in Yakima County included in the 2008 count were 1,025 and that number increased to 1,440 this year, according to numbers released at the press conference.
Mario Villanueva of Catholic Charities Housing Services said his organization assists families throughout the county in finding affordable housing. It has built 370 units of affordable housing in Central Washington.
He believes financing through the American Recovery and Reinvestment Act will further assist the organization in developing projects that benefit the communities of Central Washington and the Yakima Valley.
President Barack Obama signed the legislation this past Tuesday and Cantwell said she feels it is a step in the right direction. "We need to clean up the mess of the mortgage market, calm the crisis and ensure adequate housing."
She said approximately $43 million in tax credits provided in the bill will be provided to Washington state.
The bill, available for public viewing online, has provisions for the use of the tax credits. "That such funds shall be made available to State housing credit agencies...and shall be apportioned among the States based on the percentage of HOME funds apportioned to each State and the participating jurisdictions," is one clause in the lengthy bill.
The bill also has a provision that housing credit agencies will commit 75 percent of funding received from the federal government within a year, and project owners will be held accountable for money unspent within that same time period. The entire $2.25 billion is to be "expended" within three years.
Also, creditors are to give priority to projects expected to be complete within three years, according to the act.
"The credit crunch prevented 11 projects from taking place in Washington and the bill will help with such projects," said Cantwell. "The American Recovery and Reinvestment Act will help with the problem of supply and demand."
She told those in attendance that every 100 units of multi-family housing will generate approximately 116 jobs, further stimulating the economy.
"We need to make sure the Economic Recovery Act will provide families at-risk with a roof over their heads," Cantwell concluded.
Mark Lundgren of MC Lundgren, Inc. has been in construction for a number of years and for the past 10 years he has been involved in building affordable housing. Yesterday, he said he believes affordable housing is necessary for giving community members a sense of pride and opportunities to grow.
"There is a positive social impact, as well as a positive economic impact," Lundgren said.
Because of such projects, he believes the jobs created help the economy.
"Projects last 10 months to 12 months and we buy local products," stated Lundgren.
As a result of the American Recovery and Reinvestment Act, he believes builders like him will be provided further opportunities to help the local economy.
The microphone was turned over to Stephanie Guerin, who has benefitted recently from affordable housing through the Yakima Housing Authority.
She said it took three years on a waiting list before she, her husband and the couple's three-year-old son were able to move out of a bedroom in the home of her mother.
Guerin told her audience she has hopes that families like hers will be in new apartments much sooner because of the American Recovery and Reinvestment Act.